"Wes Fest:" Movie magic in the heart of Milwaukee
From Thursday, Feb. 2, to Sunday, Feb. 4, The Sugar Maple, a Milwaukee bar, hosted "Wes Fest." Wes Fest was a pop-up/art show inspired by the work of writer, director and producer, Wes Anderson. 
Over four days, Wes Fest featured various art inspired by Anderson's movies. Film screenings, costume contests, a themed cocktail menu, ping-pong tournament and photo booth pervaded this Wes-filled weekend. 
The photo booth let people act as like they were on one of Anderson's film sets. Customers could pose with/wear items like "Richie Tenenbaum's" tennis racket, "Steve Zissou's" beanie and the "Red Remarkable" apple from "Fantastic Mr. Fox."
 The Sugar Maple had made an attempt to exhibit Anderson's filmmaking in a way that would be appealing to his fans. Madeline Hehemann, Marquette alumnus and Wes Anderson enthusiast said she enjoyed the pop-up's overall attention to detail, with its bright colors and wall-art symmetry.
"The wall art, because of the symmetry behind it, the colors for sure," said Hehemann.
She mentioned that these aspects are always at the core of a Wes Anderson movie, and liked that the pop-up reflected that. 
"Everything he does, his signature style is symmetry," Hehemann said.
Harrison Browning, curator of Wes Fest's Anderson-themed cocktail menu, said it's not hard to enjoy a Wes Anderson film. "If you want to like his movies, I think it's easy to, I think you could say that there's probably one for everyone," Browning said. 
Similarly, Adrienne Pierluissi, sole proprietor of the Sugar Maple, mentioned that Anderson's films possess a relatability for all ages. Pierluissi said "Fantastic Mr. Fox," Anderson's 2009 stop-motion animated film, appeals to children and adults at the same time. 
"I just think he's light and breezy, he's very playful and humorous," Pierluissi said. 
This "light and breezy" aspect of Anderson's films combined with serious tones is another reason some  people hold such love for the filmmaker.
"There's a way he conveys a childlike wonder and at the same time, being super emotional," Trevor Tosto, senior in the College of Communication and former Marquette Filmmakers Association president, said.
He, alongside Hehemann, described Anderson's films as "whimsical," stating multiple times that even through serious themes, an intrinsic lightheartedness still prevails.
"He often has a serious tone to his films, the content and subject matter is typically not light. He usually uses drugs, sex, adultery…theft, 'Fantastic Mr. Fox' is about theft. And he can make it dynamic and lighthearted," Hehemann said.
To the crew at The Sugar Maple, Marquette students and alumni alike, Wes Anderson is a perennial favorite. Whether it be through bright colors, serious themes or a sense of humor, many found reasons to enjoy Anderson's films. 
Tosto said that he likes Anderson's movies because they feel real. He said that all of Anderson's characters feel like authentic people.
"'The Life Aquatic,' like it's literally about terrible fathers and how our influences can be like the worst people we meet, yet it feels like each character has likability to them. Even though I don't think we're supposed to like Steve Zissou at all," said Tosto. 
Tosto said that Anderson's characters possess a realism that makes them relatable and likable, even though many have undesirable traits.
"It's almost like a character arc, they start out unlikable but there's like one redeeming quality, just one small redeeming quality and that shines through compared to all the rest," he said.
Tosto said that a focal point of Anderson's films are the life lessons, he said, "You can focus on the bad things or you could focus on the one good thing and let that be a beacon." 
This story was written by George Kane. He can be reached at [email protected]
Leave a Comment
About the Contributor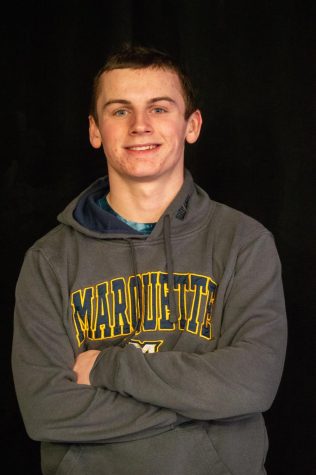 George Kane, Arts & Entertainment Reporter
George is an Arts & Entertainment at the Wire. He is a first-year from Trumbull, CN studying digital media.

In his free time, George enjoys making...