REVIEW: Wes Anderson's 1998 film, 'Rushmore'
For many, winter break provides a much-needed escape from classes and work, especially after a long week of finals. For me, at times, the month away from campus felt like a prison sentence. Albeit, one where I was given access to a variety of streaming services and was occasionally booted off of the Netflix account by one of my brothers. 
While I did my time, I waded through various dramas, rom-coms and thrillers to find writer, director and producer, Wes Anderson. As a director, Anderson is widely known for his unique, stylistically-based movies and brilliantly written scripts. One of the most prolific filmmakers of the 21st century, with every film, he engages his audience through colorfully decorated sets, inventive soundtracks and an overall product that is completely unique to cinema.
Out of all his films, my undoubted favorite is Anderson's 1998 dramatic comedy, titled "Rushmore". "Rushmore" is centered around a 15-year-old, "Max Fischer" (played by Jason Shwartzman) as he romantically pursues "Ms. Cross" (played by Olivia Williams), a teacher at his school. He does so amidst fighting expulsion and his new friend, "Mr. Blume" (played by Bill Murray) who also vies for Ms. Cross' love. As the film progresses, the viewer is taken on a trip through the lens of Shwartzman, Murray, and Williams' characters, allowing them to live and learn various lessons with "Max," "Mr. Blume" and "Ms. Cross" respectively.
Upon first watching "Rushmore," I loved every second, which I'm sure you already know if you are one of my six esteemed Letterboxd followers. Although, if not, I'll give a short recap.
One of the many great things about "Rushmore" is the soundtrack, and I'm certainly not ashamed to say that each different song will be at the top of my Spotify wrapped.
Through a medley of astounding artists/bands such as The Kinks, Faces, Cat Stevens, The Who and John Lennon, Anderson picks music that runs linearly with his story. Each song provides a benchmark for every important moment, making it almost as if you are rewatching the movie when listening to each tune contained within its soundtrack.
Alike to the soundtrack, each actor in "Rushmore" fully embodies their character. In Jason Shwartzman's debut role as Max, he kills it. To me, there is no one else who could play the lovable sociopath that is Max Fischer. Most people don't cut car brakes, fell trees, and infest hotel rooms with bees in order to get "rid" of a rival. But, through Shwartzman's amazing performance, the audience is able to relate to Max even through every misdeed his character commits. Even through these extremes, the audience can still find relatability in an angry, confused kid who just wants to be loved.
What "Rushmore" does great is its balance of comedy and drama. These two aspects of the film run intertwined with each other throughout its one-hour 33-minute runtime. Whether it be through Murray's character doing a melancholic cannonball into an unkempt pool or Max being pelted with rocks by his estranged best friend, there are many moments that are both dramatic and hilarious. And, in this, an important message still prevails that definitely makes the movie worth the watch.
"Rushmore" is about growing up and learning from your mistakes. About gaining a new perspective on a younger version of yourself and learning from it. And, as the credits start to roll and the chorus for the Faces song "Ooh La La" begins to state, "I wish that I knew what I know now, when I was younger," the audience is encouraged to experience that same perspective. To wish that they "knew what they know now" when they were younger, because, at the end of the day, don't we all?
This article was written by George Kane. He can be reached at [email protected].
Leave a Comment
About the Contributor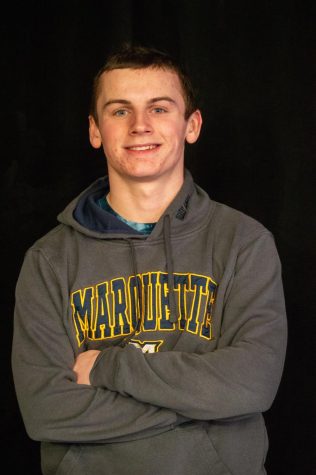 George Kane, Arts & Entertainment Reporter
George is an Arts & Entertainment Reporter at the Wire. He is a first-year from Trumbull, CN studying digital media.

In his free time, George enjoys...