"The Monuments Men" doesn't live up to star studded cast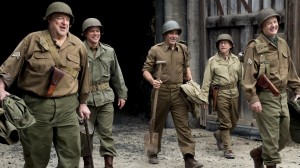 War movies always prove to be fan favorites.
From classics like "Saving Private Ryan" to the recently released "Lone Survivor," the genre always has a way of captivating audiences with heroic tales of companionship and patriotism. This is exactly what audiences everywhere expected from director George Clooney's ambitious film "The Monuments Men," a little-known story of real World War II heroism.
Although the movie is visually pleasing and has an all-star cast who did their best with the material, it ultimately falls flat, as the edited montage of scenes never takes on a life of its own.
"The Monuments Men" is based on a true story of an unlikely group of civilians-turned-soldiers fighting in World War II: Frank Stokes (Clooney), art restoration expert James Granger (Matt Damon), architect Richard Campbell (Bill Murray), sculptor Walter Garfield (John Goodman), art dealer Jean Claude (Jean Durjardin) and art historian Preston Savitz (Bob Balaban). The team volunteers to go to the European front lines and attempt to find and reclaim pieces of art stolen by the Nazis. It's a race against time with the war coming to an end, and the Germans are destroying everything in their wake as they retreat, including priceless pieces by Picasso and Michelangelo. If successful, the monuments men's ultimate treasure hunt could save more than 1,000 years of art and culture. 

Although the story is important and deserves to be told, there is very little punch throughout the film. It starts off slowly, leads up to a very uneventful climax and ends rather abruptly.
Ultimately, it's an action movie with very little action. The actors thoroughly describe what they are about to do, but the camera fails to demonstrate said actions. The script jumps around from place to place and lacks a clear motive for the men. It also fails to add any suspense, as the men's objectives are so spread out and vague that there is little doubt if they will recover the items.
However, the script does carry a consistently clever and witty sense of humor from start to finish. Writers Clooney and Grant Heslov give every lead actor at least one solid one-liner. When one U.S. soldier remarks, "The war is over. Shouldn't there be a parade or something?" Granger quickly replies, "Probably not in Germany."
The cinematography produces consistently beautiful images. Cinematographer Phedon Papamichael gave the film a unique, old-fashioned style that fits well with the overall tone.
Many jaw-dropping moments had the potential to captivate audiences, like when the team finds barrels of golden teeth from Holocaust victims. Clooney could have expanded these scenes to increase their impact, but he quickly plays them out without much detail, proving to be a missed opportunity for the film.
The biggest disappointment is the movie's lack of insight on each of the characters, especially with such a veteran cast. The characters give no back story to explain their eagerness to go on this dangerous mission so fearlessly. They did, however, show a sentimentality avoided in most war films.
In one heartfelt scene, Campbell listens to his grandson singing "Have Yourself a Merry Little Christmas" over an intercom at one of the U.S. bases. Although there are no words said besides the music playing, Murray's pure visual emotion tugs on the heartstrings and calls for a few good tears.
"The Monuments Men" had everything going for it from a talented director and cast to an interesting untold story, but the film struggles to live up to expectations by cramming too much into a two-hour film.
** out of five
Leave a Comment