Working out amidst construction
With the Rec Center closure and the Rec Plex still under construction, club sports and active students have to adjust to the fitness changes on campus.
The "Nest," an additional cardio space being built in the Rec Plex, is currently still under construction and is not set to open until February, limiting 30% of Marquette's total cardio equipment from use. Since the closure of the Rec Center, one of Marquette's larger gyms, the Rec Plex still remains partially open.
After raising 19.9 million in funds, the Rec Center began renovations and is set to reopen in January 2025. The building will be renovated with 180,000 square feet dedicated to campus fitness and the integration of recreation facilities with the Counseling Center and the Marquette University Medical Clinic.
Open play and intramural sports are being offered at the Marquette Gymnasium, with gym space at the Annex also being utilized for intramurals and open play alongside group exercise classes while the Rec remains under construction.
Club sports are welcome to practice at the gymnasium in Cristo Rey Jesuit High School, located about two miles off campus, and the Valley Fields dome, located off North 16th Street, about a five-minute drive from the Rec.
For the duration of the construction, Marquette students will have access to workout equipment that has moved to O'Donnell Hall, a previous dorm on campus. O'Donnell offers cardio and weight training equipment, a spin room, and a group exercise area.
Some recreational service staff who were employed at the Rec Center up until closing transferred to the Rec Plex and O'Donnell.
"I was a front desk worker for the Rec before, and now I work in the main office at the Rec Plex, and I think that Marquette was fair in making sure the employees was well accommodated," Bridget Moran, a first-year in the College of Nursing, said.
Moran said Marquette placed employees in facilities like O'Donnell based on preference, availability and location to their dorm or apartment.
"I do not think the closing really impacted anyone's job, because now we have three or four sites to be moved around to, and we still need all the workers that we can get to cover extra shifts at the extra facilities," Moran said.
The closure may not have had that much impact on student employment, but some current students are frustrated that the Rec Center will be closed during the majority of their time at Marquette.
"It is disappointing that the Rec closed during my time as a student, but in a few years I look forward to using it," Graham Robertson, a first-year in the College of Business, said.
Since the closing, other facilities offered to students became more populated, as some students struggle to find space and equipment.
"As someone who actively worked out six times a week at the Rec, it is definitely a transition into O'Donnell, as I have not been able to find some of the equipment, such as dumbbells or an open cardio machine that I need during my workout," Nora Stanton, first-year in the College of Communication, said.
Stanton was not the only one who said the interim gym spaces don't have enough space or equipment. Seth Krakow, a sophomore in the College of Business Administration, said that O'Donnell was "very poorly" put together and "feels like a dungeon."
Krakow also said the Rec Plex doesn't have enough capacity to support 30-40 people working out simultaneously and if you try to use the gym past 10 a.m. you'll have to wait in line to use the equipment.
"I literally can't get a workout in fast because of the amount of people that workout at Straz," Krakow said in an email. "I have to be at the gym for so much longer, sometimes up to two hours, which takes away time from school, work or other priorities I have."
Despite Krakow's frustrations, he said that he's not upset about Marquette deciding to close the Rec Center. But rather because the university didn't have "realistic plans" for students to work out. Now, Krakow said working out feels like a chore when he used to go because it was fun.
"Marquette disappointed all of their students with their other gyms. They are one, inaccessible. Two, insanely crowded. And three, no space for any sort of non-workout physical activity," Krakow said in an email.
The Rec Center,  included a weight room, two cardio courts with a Cardio Theater, various cardio machines and other amenities.
"I used the Rec Plex more than the Rec Center before, but since coming back from break it definitely feels more crowded and harder to find availability on equipment," Robertson said.
Moran expressed similar concerns about the fluctuation in people and the lack of availability of equipment.
"I know for many people like myself, the gyms became a lot busier and a lot harder to get space in the gym to workout no matter where you go, especially with the lack of cardio machines right now," Moran said.
Robertson said he will use the workout areas provided for now.
"I think for the meantime, Marquette did a great job to accommodate, but since two years is a long time, we can only wait and see how it continues to hold up," Robertson said.
This story was written by Trinity Zapotocky. She can be reached at [email protected]
Leave a Comment
About the Contributor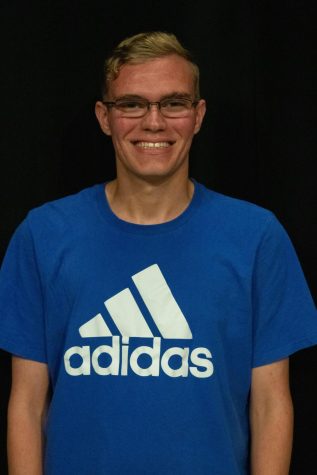 Alex DeBuhr, Staff Photographer
Alex is a staff photographer at the Wire. He is a sophomore from Bartlett, IL studying digital media.

In his free time, Alex enjoys swimming, photography,...