Swap don't Shop: Rewearit Marquette encourages sustainable fashionable
Students looking to shop more sustainably while updating their wardrobe and connecting with fellow classmates will have the opportunity to attend Marquette's upcoming Rewearit clothing swap. 
The completely free event is taking place Sept. 16 from 2 – 6 p.m. on the 2nd floor of the Alumni Memorial Union.  
Paula Paliwoda, a senior in the College of Arts and Sciences and, said she is helping to organize the clothing exchange, the first of its kind at Marquette.
Paliwoda said the Rewearit clothing swap is going to be a free event where people will be able to bring clothes they no longer use to exchange them for different pieces.
"There is no limit on how many items each student can leave with, and you don't need to bring clothes in order to attend or participate," Paliwoda said. 
Fellow organizer, Elizabeth Grout, senior in the College of Arts and Sciences, is aiming to make the swap as inclusive as possible.
"We want to make our swap accessible to everyone on campus, so if you don't have clothes to donate, that's totally fine! If you do bring some old clothes, it's a great way to know they are going to a loving home. Either way, we hope all students leave with some new goodies, just in time for the start of the semester," Grout said. 
Grout also said that people of all genders and sizes are encouraged to attend the event.
"Clothing does not have a gender, so we are not organizing the clothes in any particular way," Grout said. 
There will be a drop off bin at the entrance of the event where a Rewearit member will then organize and display the item or items.
Grout and Paliwoda said they were inspired to organize the event after volunteering at various clothing swaps in Milwaukee this summer that took place at local coffee shops and small businesses.
Grout said she was directed by the founder of Rewearit, Yvett Sanchez, to organize a clothing swap on campus. Rewearit is a national organization that hosts clothing swaps in Milwaukee, New York City and Madison. 
Grout and Paliwoda said they try their best to live a sustainable lifestyle and hope this event introduces as many students as possible to the cause.
"I hope people will see that there are alternatives to buying new clothes. I also hope people make friends at the swap! It will be a great way to build community and have discussions pertaining to sustainability outside of a classroom," Paliwoda said. 
Paliwoda said that she tries to minimize the amount of plastic she utilizes by shopping at sustainable bulk stores like The Glass Pantry in Walker's Point. She also said that she tries to bike instead of driving to close places and purchases produce from the Vliet Street Oasis.
In terms of clothing and sustainable fashion, Paliwoda said she uses her voice to advocate for ethical labor practices.
"It's hard to find fashion companies that pay their employees a livable wage and are considerate of the environment, so I turned to buying clothes second hand as a way to support local businesses instead," Paliwoda said.  
Grout is hoping students can leave the event with meaningful pieces, like she has in the past. 
Grout said that she went to a clothing swap at Newline Café where she found a vintage Wisconsin State Parks t-shirt. After taking it home, Grout said she realized she didn't love the way it fit, so she decided to give it to her roommate. 
"She wears it all the time! I hope students will have a similar experience- one that is memorable," Grout said. 
Julia Abuzzahab contributed to this report. 
This story was written by Angelina Gallulo. She can be reached at [email protected]. 
Leave a Comment
About the Contributor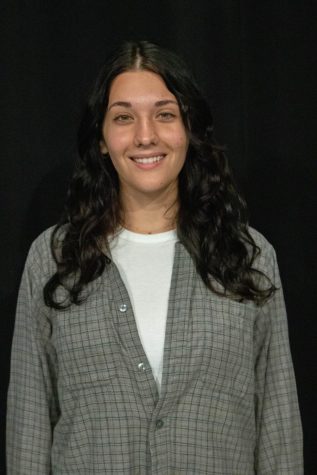 Angelina Galullo, Arts & Entertainment Reporter
Angelina is an Arts & Entertainment Reporter at the Wire. She is a junior from Chicago, IL studying journalism and minoring in digital media.

In...