Welcome back Golden Eagles! As we journey back from warm, sunny places to our cold tundra (that's slowly but surely warming up), I wanted to share with you a novel that will help us acclimate back to Midwestern life, while also filling the void those wonderful palm trees and blue oceans left in our hearts. 
"People We Meet on Vacation" is a 2021 romance novel by Emily Henry. The novel is a fan favorite on Goodreads, winning Best Book of 2021 in the Romance category.
The plot is as follows: Alex and Poppy have nothing in common. She's a wild child, always searching out the newest and craziest adventures. He prefers to stay home with a book and to stay in his comfort zone. Despite the vast differences, they are the very best of friends thanks to one car ride home from college years ago. 
For most of the year they live far apart. Poppy lives in New York City working for a travel magazine, while Alex is in their small hometown teaching at their old high school — but every summer, for a decade, they have taken one marvelous week of vacation together.
Until two years ago, when they ruined everything. They haven't spoken since.
Poppy has everything she should want: a great job, a boyfriend, a beautiful apartment, but she's not satisfied. When she reflects on when she was her happiest, she knows it was that last trip with Alex. She decides to fix their relationship and convinces her best friend to take one more vacation together. She wants them to lay everything on the table. Miraculously, he agrees.
Now she has one week to catch up on two years of regrets. There's only one problem: she must address the enormous unrequited truth that stands between them. What could possibly go wrong? 
Review and Rating:
Starting with the plot, I must say this friends-to-lovers trope is done very well. The novel establishes that Alex and Poppy are very different and even when they do meet, it's not so much an instant connection as it is a slow burn. As the reader, I was screaming at the two to just get together already with every stolen glance or lingering touch.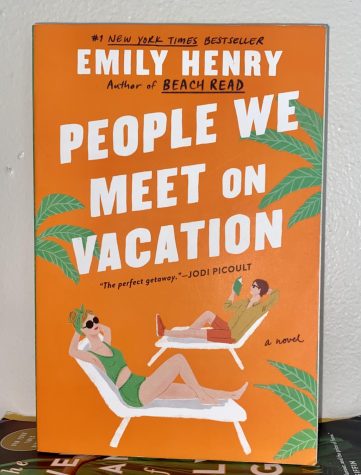 With every chapter you really feel the romantic tension building. The novel flashes from their current vacation to their previous ones. That being said, this romantic tension builds over the course of a decade, which I feel is a little too long. But then again, there is something to be said for unrequited love, especially between friends.
The plot did feel a bit like fanfiction, which is fine, but I felt I could log onto Wattpad or Archive of Our Own and read a similar story for free. But what the internet can provide for free lacks the attention to detail and budding romance that Henry writes. 
The characters Poppy and Alex were crafted in their own way. I did not like the writing of Poppy's character. Her story is that she dropped out of college but somehow managed to snag a job at a prestigious travel magazine in New York City, it felt too outlandish for me. Plus, I find the romanticizing of New York City overdone. Writers, if you're reading this, please do a story in Chicago or Milwaukee, those cities need some love too!
I did relate to Alex's character, and not just because he has an amazing name. He struggles, like Poppy, to find his place in the world. He goes back to his small Ohio hometown because it's a place of comfort. This further helps with his characteristic of someone who is more cautious and a homebody.
This book wasn't really my cup of tea, but it was still a cute, interesting and fast read. It's a perfect novel to curl up on the beach with and help with those post spring break blues. 
I give "People We Meet on Vacation" by Emily Henry three out of five stars. 
This story was written by Alex Wagner. He can be reached at [email protected].