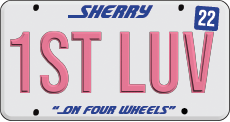 There's something poetic about how my infatuation with my first car was reminiscent of a first love. I wasn't a perfect driver, and my 1999 Ford Taurus sure wasn't a perfect automobile, but the two of us were inseparable.
I was smitten with my car, who I named Sherry, before I could even take the wheel. When I was only 15, my parents brought home a beautiful, sparkling red vehicle into our driveway: Sherry. I fell head over heels before I even took my driver's test. I sat in the driver's seat — her with a half tank of gas, and me with an enamored heart — every day after school.
I knew her name was right for her the first time I heard Frankie Valley's voice grace her speakers with his classic, "Sherry." I didn't play this via a CD player, Bluetooth or even an aux cord, because Sherry was only outfitted with a cassette deck. I plugged in the $15 radio wave emitter I bought to the dropdown cigar lighter that our mechanic outfitted into a port for car chargers, and maneuvered her scratched yet gorgeous dials through the oceans of static until I could finally make out the song I was playing – "Sherry."
I wasn't quiet about my love for Sherry. I showed pictures of her from a multitude of angles to my friends in homeroom in the week leading up to my driver's test. I showed off her gold-detailed rear, robust back windshield and front-row bench seat that had a third sitting place where a console often goes in today's vehicles. I wanted nothing more than to take her for spin before the test that seemed to only feel farther and farther away.
When that day did come, it was magical. I felt a rush in my heart every time I manually unlocked her door every morning, and like a monk saying his prayers, I locked those doors every time I wandered more than four feet from her glimmering ruby red presence. We spent many warm nights with the windows down blasting music; I'd always take the long way home just so we could spend more time together.
When a song I would play through her seductive speakers  would change volumes too quickly, she'd speak to me with a flirtatious pop or crackle. When I drove too fast, her engine would rattle like a snake's tail in Albuquerque. But I never did slow down; even when I drove so fast that my rearview mirror vibrated so much that it appeared I was driving on a nine lane highway.
That was the thing — I didn't care what anyone else thought. I wouldn't feel a lick of jealousy or spite when the rest of the sophomores in my suburban Catholic school arrived in Range Rovers or BMWs. Sherry and I had a bond that meant more than a brand logo or manufacture date. I didn't need the luxuries others had, like four wheel drive, backup cameras or a functioning heating system.
I understood that love was hard. When the winters came, I knew that Sherry's defroster wouldn't be able to expel the ice on her windshield every morning. So, every night like clockwork, I went out before bed through arctic winds and single-digit temperatures to lay an old beach towel on her windshield to prevent ice from forming overnight. But most of all, I was there to say goodnight, and to minimize the time we spent apart.
Eventually, the fateful day finally came where we parted ways just 9 months into our journey together. It was scorching hot, and I could see steam pouring off of her engine from under the hood. In retrospect, I should've taken that as a warning, because on my drive home from my doctor's appointment, Sherry blew a gasket.
When I called for roadside assistance, I could sense our last days together were near. My mom put her arm around me as I watched her get chained and pulled onto a tow truck, and we both watched, not saying what we knew was both true.
As young love does, our time together finally came to an end. The cost to repair her engine was about $900, which is over half what my parents paid for the entire car to begin with. Maybe I'm just uneducated about cars, or maybe it was the hopeless romantic in me, but I pleaded my case to my parents to fix her.
I knew deep down, though, that it wasn't right. I knew if we fixed that engine, it was only a matter of time before another gasket blew, or before some other calamity came over my sweet, ancient Sherry.
To my Sherry, I know I couldn't give you a ride north to a farm where you could live out your days in peace, but I hope the scrappers we sold you to were able to use your parts towards something as beautiful as you always were to me.
Love, RJ
This story was written by RJ Siano. He can be reached at [email protected].
Story continues below advertisement