Students and faculty asked to consider "cannonball moments" in celebration of Ignatian year
The Ignatian Year, which is a holiday celebrated by Jesuits, began in May 2021 and will come to an end in July 2022. As a Jesuit institution, Marquette University recognizes the importance of the Ignatian Year and encourages students not only to celebrate it but to also understand the meaning behind it.
The 500th anniversary of St. Ignatius's conversion occurred on May 20, 2021. The conversion Ignatius was believed to have experienced was from soldier to saint when he was struck by a cannonball, hence being his "cannonball moment". Ryan Duns, a theology professor at Marquette, explained why this marks such a significant change in St. Ignatius's life.
"In 1521, at the Battle of Pamplona, Ignatius was wounded in battle when his leg was struck by a cannonball. During his long recovery, he had time to reflect and pray on his life and discovered, through this, his vocation," Duns said.
Marquette recognizes students' involvement in the Ignatian Year. "Your presence in the Marquette community means that you are a part of this 500-year tradition that has moved hearts and minds for centuries while creating and reading the signs of the times."
As a way of developing students' knowledge of St. Ignatius's conversation, students and faculty are urged to consider their own "cannonball moments." This is described as a pivotal moment where someone chooses to follow God's guidance through difficult times in order to find purpose in the situation.
Duns said he was raised Catholic and attended many Jesuit colleges as a student, before becoming a Jesuit in 2004. He experienced his own cannonball moment during an interview for medical school his senior year of college. Duns said that he would pursue priesthood if he didn't get into medical school, and he realized priesthood was something he would have to consider for his future.
"A single comment to a standard question reframed my life: the question was the cannonball that 'broke down' one set of expectations and made a breakthrough to a new way of life," Duns said.
Fiona Mullarkey, a sophomore in the College of Nursing, said she attended a religious private high school. She said she decided to continue this type of education at Marquette because she admired Marquette's religious traditions.
"Religion, for me, did influence my college decision, but only for the better as I knew I would have different resources by attending a school with Jesuit tradition," Mullarkey said. "I think religion has affected my college experience in a good way because I have had access to opportunities I wouldn't if I went to public school."
Mullarkey, said she was educated on the power of cannonball moments at her high school.
University President Michael Lovell shared his respective cannonball moments in order to encourage students to consider their own.
In a message Lovell made to the Marquette community, he admitted to a recent cannonball moment he experienced. After being diagnosed with cancer, Lovell realized that this was a life-changing experience he was going have to rely on his beliefs for.
"As I embark on this journey, there are several things that give me hope and a positive outlook," Lovell said in his message. "I am a person of deep faith, and I know that God's glory can manifest through suffering difficult times. I believe in the power of prayer and know that anything is possible with God."
As the Ignatian Year is passing, Marquette wants students to get involved. Students are encouraged to "submit reflections about  personal faith stories and transformative moments" and "contact Mission and Ministry  to join the Ignatian Year Team."
"This year invites us to think of our own cannonball moments, times when a new and unexpected opportunity presents itself to us," Duns said. "Our challenge is to reflect on these moments as invitations to real transformation: How might God be at work in this event, calling me to become who I am meant to be?"
This story was written by Phoebe Goebel. She can be reached at [email protected]
Leave a Comment
About the Contributor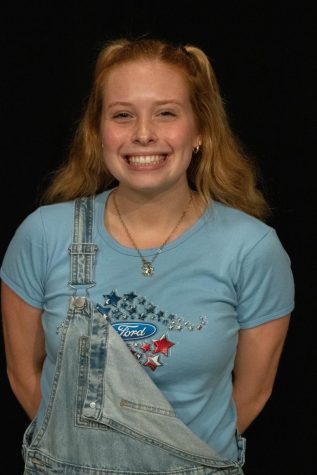 Phoebe Goebel, Assistant Arts & Entertainment Editor
Phoebe is the Assistant Arts & Entertainment Editor at the Wire. She is a sophomore from Hinsdale, IL studying journalism.

In her free time, Phoebe...