Alex's Book Cave: 'Project Hail Mary'
Ryland Grace is Earth's last hope.
He wakes up twelve light years from Earth with no recollection of his name, identity or why he's even there. With his two crewmates dead and memory slowly returning, he comes to the realization that he has to stop a mysterious intergalactic space microbe from causing the sun to dim which will wipe out humanity if unchecked.
No big deal right? With fuel, food, water and a science lab that any scientist would die for, the only thing he's running low on is time. Not one to back down and with the help of an out-of-this world friend, Ryland Grace may just save us yet.
Review and Rating:
"Project Hail Mary" by Andy Weir was my favorite book from 2021, and everyone should read it going into 2022. Weir's previous work includes "The Martian," which was made into a movie with the same name starring Matt Damon, Jessica Chastain and Sebastian Stan in 2015.
I rented this book from the Marquette Raynor Library Dec. 19, 2021. I binge read it in two days, finishing all 476 pages well before my January 2022 return date. No joke. Weir just has this gift of making his characters likable to the average reader and making science digestible to the most scientifically illiterate person.
The main character, Ryland Grace, is full of optimism and charisma. Even in the face of this monumental obstacle, he maintains his humor and is dedicated to the task.
I did struggle with understanding the science, but to me that's because Weir is working with more assumptions in this book than in "The Martian." Unlike "The Martian," we know our red neighbor very well thanks to numerous rovers and other unmanned missions.
"Project Hail Mary" takes on a lot of educated guesses about science. While all of it is grounded in real facts, some liberties had to be made. Liberties such as alien life, where Ryland meets a five-legged spider-like creature named Rocky because he looks like a rock. Rocky has no vision and is from a planet with 29 times the atmosphere of Earth. Interstellar space travel is another issue entirely. In the book Ryland and his crewmates are asleep for decades, and seemingly have no mental gaps or regressions when they wake up. I can't fault Weir for trying. We just don't know the effects of long term space travel on the human body or what form alien life comes in.
The main reason I want you to read this is simple: it shows the best of humanity, even if it's fictional. When the threat of extinction looms just beyond the horizon, traditional adversaries such as China and the United States share resources, and Africa is lifted out of poverty by mass producing Astrophage, the very alien microbe threatening humanity, for fuel. Finally, the novel acknowledges our finite and fragile life on a pale blue dot in the black sea of the cosmos.
If I may digress for a moment, humans are not inherently evil. One of the first signs of civilization is a healed femur. Usually a death sentence in the wild, a healed femur shows someone nurtured and loved another person just as much — if not more — than their own. We are creatures of love, empathy and kindness — that's what this book shows me.
I give "Project Hail Mary" by Andy Weir five out of five stars. 
This story was written by Alex Wagner. He can be reached at [email protected].
View Comments (1)
About the Contributor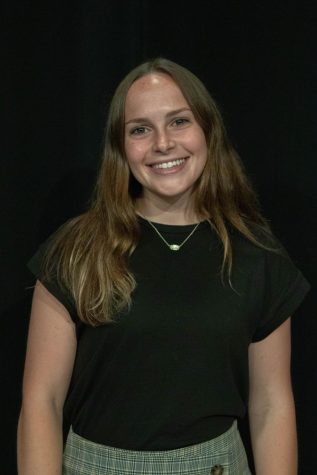 Lily Werner, Design Chief
Lily the Design Chief at the Wire. She is a junior from Barrington, IL studying advertising and minoring in marketing and graphic design.

In her free...