Thrift shop for Campus Sustainability Month
Between thrift shops and resale stores, buying secondhand clothing is growing in popularity. Aside from grabbing unique pieces, thrifting promotes sustainability and eliminates the exploitative process of fast fashion.
The month of October is recognized as Campus Sustainability Month. To celebrate, the Office of Sustainability organized several events. They hosted an LED lightbulb giveaway, a t-shirt to tote bag event, a sustainability office pop-up where students could ask questions, and a pop-up thrift shop.  
For the thrift shop, the team encouraged students to donate throughout the month. They then gave away the donated items Oct. 27 outside the Alumni Memorial Union. The interns in the Office of Sustainability worked every event and they believed this was their greatest success.
"There was a lot of people that loved the idea [of a thrift shop]," Allyssa Vesely, a senior in the College of Arts & Sciences, said. "We had a lot of clothes in the beginning and then by 3 o'clock it was all kind of picked through."
The thrift shop was free and it encouraged students to shop secondhand and stop the outcomes of the fashion cycle. All the events organized this month persuaded students to be more environmentally conscious.
However, Vesely urges people to be more sustainable during all months. Sustainability and being environmentally conscious is a year-round dedication. While it may be hard, the interns have suggestions on how to live a greener life.  
"I know how hard it is because they got us in the dorms and I know how hard it is to remember to bring your own straw, but reusables are really important," Vesely said. "I think just being an advocate; if people speak up about wanting composting on campus or teaching other people how to recycle properly, I think changes could happen."
Additionally, Marquette was named a 'Green College' by the Princeton Review. In the Marquette Today announcement covering this award, many examples were named including sustainability-focused groups and environmental classes. To maintain the title, the interns are designing their own projects. Michaela Schulist, a senior in the College of Arts & Sciences, is collaborating with Vesely and they have a great idea. 
"Her and I are doing a food waste diversion project that we would like to launch a pilot for in one of the university-owned apartments," Schulist said. "We want to divert food waste from the landfills because it causes a lot of CO2 emissions, a lot of methane too."
The interns are hoping to launch their pilot project soon. Until then, they will be hosting events for students to participate in. 
"We are planning on doing more throughout the year, we just wanted to emphasize some fun, sustainable activities for the campus to be involved in," Schulist said. 
Even though Campus Sustainability Month is ending, the Office of Sustainability will continue to promote being environmentally conscious throughout the year. To learn more about their efforts, you can follow them on Instagram, @marquetteugreen.
This story was written by Izzy Fonfara Drewel. She can be reached at [email protected].
Check out the audio package for this story by A&E Audio Producer Julianna Okosun.
Leave a Comment
About the Contributor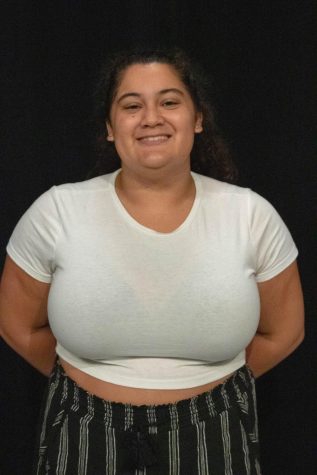 Izzy Fonfara Drewel, Executive Arts & Entertainment Editor
Izzy is the Executive Arts & Entertainment Editor at the Wire. She is a sophomore from Papillion, NE studying journalism and minoring in music and...