MU Greek life turns a new leaf
As Greek life chapters begin recruiting for new members, Kappa Sigma and Triangle Fraternity reflect on their past suspensions and discuss the implementation of new initiatives to prevent history from repeating itself. 
Sorority and fraternity life coordinator Zachariah Pfeifer said Triangle was placed on suspension from 2018-2020 due to an unregistered party that took place in the chapter's fraternity house. There, they were charged with violating multiple categories of the alcohol policies and disorderly conduct.
At the time of the unregistered party, Triangle was already on probation — which is what led the chapter to suspension.  
However, this was not the first time the fraternity, along with others, were condemned by the university. 
In 2014, Triangle and Delta Chi were issued an "official warning" from the university due to "alleged incidents of sexual misconduct that took place at their fraternity houses." Sigma Phi Delta was also issued the same charge along with a hazing violation.  
As a result of these "official warnings," the fraternities were subject to suspension if there were any additional violations of chapter, Greek life policies or the student code of conduct. 
Kappa Sigma was also suspended in 2019 due to an alcohol violation while on probation. As a result, the chapter's suspension wasn't lifted until the beginning of 2021. 
In an effort to prevent another suspension, senior in the College of Arts & Sciences and president of Kappa Sigma Fraternity Sam Nenning said the fraternity's executive committee is now trained to "educate and enforce the policies of Marquette." 
"[Enforcing policies] is to protect the members of the Greek community from immature and irresponsible decisions that could derail an individual's future," Nenning said. 
Following their return to a "good standing" on campus, Nenning said those remaining within the chapter are now "well aware of the seriousness of Marquette's policies surrounding fraternity life on campus."
Beyond educating his fraternity on the consequences of drug and alcohol violations, Nenning also said it's important to discuss the prevalence of sexual misconduct, as silencing the conversation can "lead to a persisting issue."
Sexual misconduct in fraternities has remained a long-standing issue across the United States, as two Eastern Michigan fraternities, along with Eastern Michigan University, are facing lawsuits from 24 victims that alleged they were sexually assaulted in incidents dating back to 2016. 19 of these victims reported assaults that were connected to the two fraternities.
"There have been far too many incidents of sexual misconduct stemming from fraternities across the country," Nenning said. "We have a zero-tolerance policy for any sort of sexual misconduct."
Triangle Fraternity is also taking several initiatives to instill trust within the Marquette community. 
Executive director of Triangle Tom Pennington said the fraternity will be recruiting all new members who are required to take an online risk education program and refresher course, along with developing a three-year plan for restructuring programs, policies and overall expectations. 
Pennington said the three-year plan will specifically rebuild "a close alignment with Triangle national policies, expectations for undergraduate and alumni members and a range of education and programs to address campus risk issues."
When the fraternity house is open again, Pennington also said they will be adopting a policy prohibiting "hard alcohol," will have a graduate advisor or house director living on the property and work on improving the study space to encourage a stronger focus on academics. 
The Triangle Fraternity house currently resides on the corner of 15th and Wells Streets, however, is not yet occupied.
In an effort to earn the support and trust of women's fraternities on campus, Triangle also met with leaders of sororities on campus and the Panhellenic council. 
"It was invaluable to hear of their concerns and discuss ideas about how we can earn the support and trust of their members," Pennington said. "It was an important first step in re-establishing Triangle as a group they would feel comfortable recommending to friends and where they would feel safe as guests." 
Looking forward, Pennington said the goals of Triangle's return to campus are simple. 
"[We will] announce our return, rebuild relationships with the campus community, and recruit an initial group of strong students with leadership potential who want to create a fraternity experience worthy of Marquette and Triangle," Pennington said. 
At this time, the only Greek Life Organization currently suspended from campus is Delta Sigma Theta sorority due to violations of the university and national sorority hazing policies. They will return to campus in May of 2022. 
This story was written by Claire Driscol. She can be reached at [email protected]
Leave a Comment
About the Contributors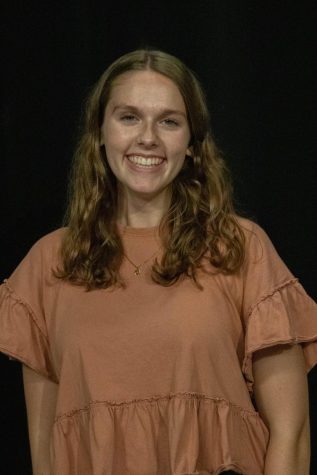 Isabel Bonebrake, Chief Photographer
Isabel is the Chief Photographer for the Marquette Wire and oversees the photo desk. She is a junior from Frankfort, IL majoring in journalism and minoring...