Women's tennis falls in quarterfinals, men's team loses in semis
Both Marquette tennis teams made early exits in the 2021 BIG EAST Tournament that took place at the Cayce Tennis & Fitness Center in Cayce, South Carolina April 22-26.
The women's team faced Georgetown in the first round and dominated the Hoyas with a 4-0 sweep. This victory came with help from No. 1 doubles Natalija Popovic and Guilia Turconi, who won their match 6-4. The No. 4 singles player Emilija Kojcic and No. 5 singles player Elizabeth Desmarais also won their. matches. Kojcic won her match 6-2, 6-3 and Desmarais won her match 6-1, 6-1.
This team win against Georgetown helped the Golden Eagles advance to the quarterfinals, but ended up falling to the top seed Xavier, where they were swept 4-0. This was the second time iim less than a week that Marquette faced Xavier. 
"We made some good progress this season during a difficult year, but there is still plenty of room to grow as a team," Steve Rodecap, director of tennis, said in a statement. "Everyone was able to gain some valuable experience and we look forward to getting back on the court as a team in the fall."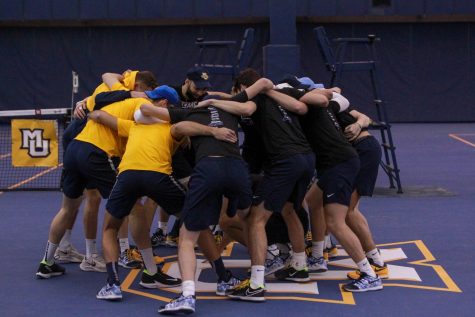 While the women's team was eliminated during the quarterfinals, the men's team made it a bit further.
The Golden Eagles played their first match against Villanova April 23 and won 4-1. Marquette's win came with contributions from the No. 3 doubles team, Rami Scheetz and Shaddy Khalafallah, who won 6-3. The top three men's tennis singles players all won their matches: No. 1 singles Fran San Andres won his match 6-2, 6-3, No. 2 singles player Luis Heredia Gomes won his match 4-6, 6-1, 6-4 and No. 3 singles player Stefan Dragovic won his match 6-3, 7-5.
With this win the third-seeded Golden Eagles advanced to the semifinals to play St. John's April 25. However, they fell to the No. 2 seed, St. John's, 4-2 in the semifinals. This was the first time in five seasons that Marquette has not played in the BIG EAST Championship match.
The team did attempt a comeback despite being down 3-1. The first win came from No. 1 singles player Fran San Andres who won his match 6-3, 6-3. This win almost ignited a comeback from the Golden Eagles. After his win, No. 3 singles player Stefan Dragovic won his match 6-3, 3-6, 7-5. He pushed through to make the score 3-2, but it just wasn't enough to win.
Neither team advanced past the semifinals. While the women's team ended the season with a losing record of 6-8, the men's team finished 10-7. However, both teams have completed their respective seasons and will not be competing in the NCAA Tournament.
This story was written by Matthew Valente. He can be reached at matthew[email protected].
Leave a Comment