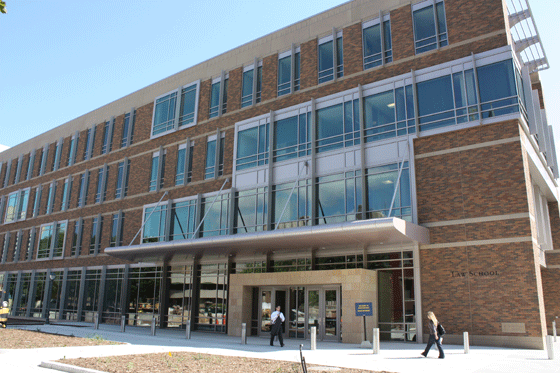 Sophomore in the College of Health Sciences Komal Khatri will be voting in her first presidential election this year.
But as polls begin to finalize, there is one thing on Khatri's mind: the 2016 polls that that predicted Hillary Clinton's victory.
FiveThirtyEight's general election forecast for the 2016 presidential election estimated that Democratic nominee Hillary Clinton had a 71.4% chance of winning the presidency, but at the end of the night of the 2016 election, President Donald Trump won the election with 306 electoral votes. He also flipped the states of Ohio, Michigan, Iowa, Pennsylvania, Florida and Wisconsin.
The 99 electoral votes from all six of the states that Clinton was expected to win were able to push Trump into the presidential seat, and beat Clinton's 227 electoral votes.
"I am trying my best this year to have faith in the polls and trust the process," Khatri said.
According to an Oct. 5 Marquette Law School poll, Biden has a five-point lead among likely voters in the state of Wisconsin and around this time in 2016's election, Clinton had a four-point lead among likely voters.  She ending up losing in the state of Wisconsin by a margin of less than one percent.
Charles Franklin, director of the Marquette Law poll and law professor, said Wisconsin has a central role in American politics this year.
"Wisconsin is very important, we are near the tipping point in the electoral college," Franklin said in an email. "If the (presidential) race is fairly close we will be very near the tipping point."
Political science professor and department chair Paul Nolette said that Biden's lead in the state of Wisconsin is still "robust" and said Trump will have an uphill battle in the state.
"With a week to go, there is still an opportunity for shifts," Nolette said. "There is always a chance of this happening because polls are a snapshot of how voters are thinking at a particular moment, as opposed to a prediction about what things will look like on Election Day itself."
Nolette said that the reason why these polls do not reflect the final outcome of an election is due to how much of the electorate surveyed actually turns out to vote.
"For example, a poll asking 1,000 people who they plan to vote for, and 10% of those surveyed are college students. If college students end up representing more than 10% of the people who actually turn out to vote, the poll could be 'wrong,'"  Nolette said. "In 2016, the polls did not survey enough voters without a college degree … which in turn underestimated votes for Trump."
He said nowadays most pollsters take things like education into consideration when creating and sending out surveys. He said  generally, polls are still a reliable source, although not perfect.
Nolette said he thinks Trump will have difficulty winning the race for the presidential seat because recent national polls show Biden leading Trump by large margins.
"It's going to be difficult for Trump to take the lead in the national polls at this point, as he's been trailing Biden consistently for months. However, that does not mean that President Trump could not win a second term," Nolette said. "Trump could lose the popular vote and still win in the Electoral College — after all, that's what he did four years ago."
Besides gauging who will win the presidency in November, the Marquette Law poll also polls issues that matter among likely and registered voters in the state of Wisconsin.
Nolette said that certain issues like the economy are always prominent in every election cycle, but there has been one major issue that has been on the minds of voters on both sides of the aisle: COVID-19.
The COVID-19 pandemic has killed over 225,000 Americans and infected over one million since March. With businesses shutting down, universities shifting to fully online formats and a death toll that increases daily, COVID-19 is on the docket for voters in Wisconsin.
The most recent Marquette Law School poll showed that 61% of Wisconsin voters are either "very concerned" or "somewhat concerned" about "experiencing coronavirus." Only 5% of Wisconsin likely voters said that COVID-19 is under control now, while 50% of likely voters said they think the pandemic will be under control a year to more than a year from now.
Another issue that has been on the forefronts of the election this year is racial inequality.
"There may be some indication (among voters) that issues of race may be an important issue for Wisconsin voters, particularly following the police shooting of Jacob Blake in Kenosha," Nolete said.
Prior to the shooting of Jacob Blake, a man who was shot seven times in the back by a Kenosha, Wisconsin police officer, 61% of likely Wisconsin voters approved of protests against police shooting, but after violent protests came to the city of Kenosha, that number plummeted to 46%.
The same pattern has been reflected with opinions of the Black Lives Matter movement. In June's law poll, the movement had 59% of likely Wisconsin voters who had a "favorable" view of the activist group that called for racial justice. Now that number sits at 46% of people who have a "favorable" view and 40% who have an "unfavorable" view.
The Marquette Law poll has been used by national news networks to assess where Wisconsin's vote will swing in the presidential elections.
This story was written by Benjamin Wells, he can be reached at [email protected]
Story continues below advertisement