Hobbies at Home
Living in a new normal — with limited outdoor activities and social distancing orders in place across the nation — many students found ways to make the most of their extended time at home this summer.
Cal Papineau, a senior in the College of Engineering, ended up going viral on the popular social media app TikTok after posting a video of an obstacle course he and his sister made from everyday items lying around the house.
"It was actually my sister's idea to make one of these courses," Papineau says. "She saw a couple videos on TikTok (like this one) and thought it was pretty cool. She showed me and asked if I wanted to make one with her."
Papineau says he agreed and helped his sister gather items around the house.
"When building the course we used anything we could find — mostly wood from the basement, fans and golf clubs," Papineau says.
Papineau said building the course took much longer than expected.
"It took two to three hours to build and then another couple of hours to get it right," Papineau said. "I think we started around 6 p.m. and went until midnight."
Although he and his sister initially made the video to post on Tik Tok, Papineau says he was hesitant to post it.
"I was very unfamiliar with the app, instead I just posted the video on my Snapchat story," Papineau says. "After multiple friends viewed my Snapchat story and suggested I post it on TikTok, I posted it the next day around dinner time."
The video proved to be a success, gaining thousands of views in just a couple of days.
"When I went to sleep it had around 10k views," Papineau says. "I was surprised by this, but thought the video was dying down. When I woke up the next morning it had over 100k views and continued to gain hundreds of views every couple of minutes for the rest of the day."
The views and likes eventually started to die down, and Papineau says he found other ways to keep busy beyond social media, including interning with the Department of Transportation and golfing.
The Marquette Naturals, an all-male a capella group at Marquette, also turned to social media to stay connected and raise spirits during the months of quarantine with their "It's not unusual: quarantine edition" music video. The video, which was shared with students through Marquette's social media accounts, was created using footage from a zoom call as well as separate footage of members doing their own hobbies at home.
Carl Wacker, a senior in the College of Arts & Sciences and president of the Marquette Naturals, says making this virtual video brought new experiences for everyone in the group.
"We were seeing many of (our) favorite artists posting videos with fun and uplifting songs, and (so we) decided to do one ourselves," Wacker says in an email.
He says their music director, Perry Kreiss, came up with the idea for this music video.
Wacker says preparing for the music video was difficult, especially since it was something they had never done before.
"There was quite a bit of preparation needed for this kind of video because we are not professional producers and videographers," Wacker says in an email. "Perry, along with help from alumni and the rest of our Executive Board, put together a plan for a fun and simple song to perform that would bring happiness to those needing it in this crazy time."
He says the biggest learning curve to making the music video was editing the audio.
"(Our music director) took on this task and learned quite a bit about slicing audio and layering the various parts to make it absolutely perfect," Wacker says in an email.
Wacker says singing in a group through computers is more complicated than singing in person.
"When singing in person, we are better able to make quick adjustments to volume, tone and pitch on our own to achieve the iconic Naturals sound," Wacker says in an email. "Now this has to be done electronically and may take a few times to get just right … but also gives us great creative freedom to make sure the audio and video are perfect."
The Marquette Naturals have also come up with a second virtual music video titled "Talk Too Much." To watch both videos — or to stay up-to-date with the latest from the a capella group — visit them on Instagram @munaturals.
Wacker says he has personally taken up biking around Milwaukee in his free time.
"(Biking) has let me get outside and get some fresh air when I need it most," Wacker says in an email.
He says his fellow members of The Naturals have been keeping in touch through social media and video calls, and have been working on their own hobbies this summer – including cooking, exercising and, for one member, trying to memorize every line of every video game he can find.
Aside from using technology as a way to connect, during this time of social distancing, some students have found new interests in art.
Ashley Castañeda, a sophomore in the College of Arts & Sciences, says she recently decided to start painting during the second semester of last school year.
"I'm not a professional at it, it's just something I do to distract my mind or when I have free time," Castañeda says in an email. "My favorite thing about painting is how relaxing it can be. I just paint away and even if I mess up, there's always a way to fix it."
Among some of her paintings so far are the four seasons of the year and Forky from Toy Story 4 with regular acrylic paint
Aside from painting, Castañeda says she has been practicing carving as well, particularly with linoleum. She says her carvings are made from pictures in her camera roll. She currently has a carved picture of her boyfriend's family, and two pictures of her and her boyfriend, but is working on making more.
Castañeda says painting and carving are stress relievers for her during busy times. During finals week, she says she would work on carvings as a break from exams. Focusing on her art proved to be a good way to pass time during quarantine.
"I didn't have anything to do during quarantine and being on my phone was getting boring," Castañeda says in an email. "It helped me leave my phone and social media and do something that's really cool. Time went by so fast when I would do carvings, I would sleep around 4 a.m. just so I could finish."
Castañeda says she hopes her art will help her continue to learn and grow more.
Leave a Comment
About the Contributor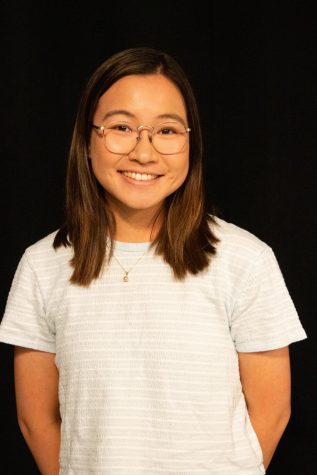 Skyler Chun, Executive Investigative Editor
Skyler is the Executive Investigative Editor at the Wire. She is a senior from Aiea, Hawaii studying journalism and international affairs and minoring...