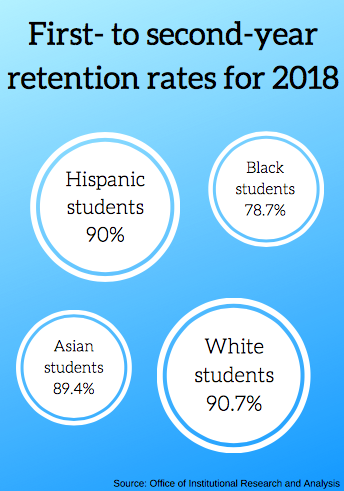 Marquette University recently announced the Class of 2023 is 29% students of color, surpassing the previous year's makeup of 27% students of color and raising overall diversity to a record-breaking 25%.
The university's increase in overall diversity could be attributed to its recent initiatives, which strive to empower incoming and first-year students.
One of these initiatives is Ready to Inspire Success and Excellence, or RISE, an orientation program for students of multicultural backgrounds. It provides workshops, resources and team building for students, who allows them to build connections before classes begin.
Other initiatives include First Families and Mi Casa es Tu Casa, which aim to help first-generation students and their families with the admission process.  
These programs offer a necessary service to students of color on campus, who often face barriers and racist treatment at a majority-white institution. The university's initiatives demonstrate its commitment to these students' success.
However, upperclassmen students of color at Marquette are left without the same support.
While programs assist students and families during recruitment and initial adjustment to campus life and help connect them with campus resources and student organizations, they do not provide extensive ongoing support for students over the duration of their time at Marquette.
There is a lack of support for current upperclassmen who did not experience recent programs such as RISE.
If the university hopes to cultivate a culture of diversity and respect, it must maintain its dedication beyond initial student contact. Developing programs to provide resources to upperclassmen could increase student of color retention rates.
First to second-year retention for fall 2018 was 90.7% for white students, 90% for Hispanic students and 78.7% for black students, according to the Office of Institutional Research and Analysis.
The OIRA also reported Asian students had an 89.4% retention rate and American Indian students had a 71.4% retention rate. Students categorized with an "unknown" race or ethnicity had a retention rate of 88.9% and students categorized as "two or more" for race or ethnicity had a retention rate of 85.4%. 
 The university must take responsibility for these disparities and work to create consistent programming that values students of color.
The university does provide academic opportunities for students from underrepresented groups. For example, Marquette offers students of color numerous initiatives and programs related to fellowship, scholarship and orientation, such as Project BEYOND-2, which assists students in pursuing nursing careers and diversity fellowships for graduate school students.
While these academic opportunities are needed, many of these programs are merit-based, time-restricted and available to a select few.
The university needs to provide additional resources and opportunities to all students of color during their entire time at Marquette. Without doing so, the university cannot adequately increase and uphold diversity on campus.
At the President's Panel on Diversity, Equity, and Inclusion Feb. 26, a faculty member and two students of color expressed their concerns about the campus climate and university diversity initiatives with University President Michael Lovell.  
The panelists told Lovell efforts need to be taken beyond merely discussing diversity issues. The university must take action to ensure students of color feel comfortable and safe on campus, they said.
This message remains true. Students of color should feel confident in continuing their educational careers at this institution. But for this to happen, Marquette must bolster its diversity programming.
Despite the recent increase in initiatives for students of color, the university has yet to take significant action regarding the issues that were discusses at the President's Panel eight months ago.
With a lack of programs for non-white upperclassmen, students of color often turn to each other for support through student-run organizations like Black Student Council and Delta Xi Phi Multicultural Sorority. 
 While these organizations provide beneficial spaces and outlets for authentic expression, students should not have to feel that their comfort and safety are restricted to these organizations. 
The university must complement student organizing efforts with its own programs for upperclassmen of multicultural backgrounds.
Diversity recruitment rates cannot continue to be a talking point for the university if it does not take steps to retain these students.
The university must provide all students of color with adequate resources for support, success and respect.