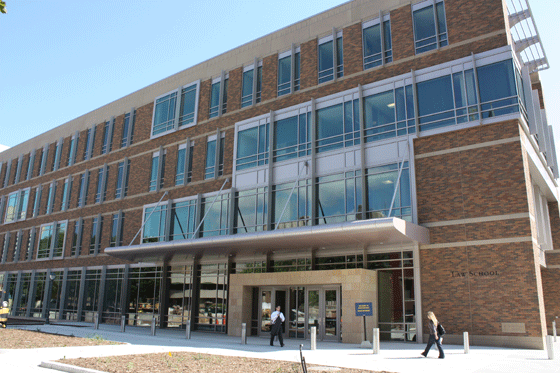 At the Lubar Center in Eckstein Hall last Wednesday, Paul Butler, an author and Georgetown University law professor, told an audience of law students, attorneys and community members that he "didn't go to law school to lock up black people."
Butler was a guest on the local interview series "On the Issues with Mike Gousha" alongside Milwaukee County district attorney, John Chisholm. In the quote, Butler was referring to the disproportional incarceration of black men in the United States, with particular attention to Wisconsin.
Butler specifically referenced a 2013 study by the University of Wisconsin-Milwaukee which found that the incarceration rate of African American men in Wisconsin was 12.8%, nearly double that of the already disparate U.S. average of 6.7%. In contrast, the incarceration rate of white men in the state was lower than that of the national average of 1.3%.
"Wisconsin incarcerates the most black men in  the county in terms of population" Butler said.
Chisholm was quick to point out that the criminal justice system in Wisconsin and more broadly, the country, operates in a binary manner.
Chisholm explained as a prosecutor, one is to dictate whether someone is charged with a crime based on the evidence provided. There is no emphasis as to why the crime was committed or how it could have been prevented because there is no emphasis on the defendant as a person. Chisholm argued this lack of what he called "social contact" leads to the disproportionately higher incarceration of certain vulnerable groups including addicts, those afflicted by poverty and those facing a history of discrimination.
When reflecting on his past in the Milwaukee criminal justice system, Chisholm said, "I think many times we didn't want to see the humanity behind these cases."
Butler praised Chisholm for his efforts to combat racial disparity within the justice system during a time when many district attorneys pursue "tough on crime" campaigns. He acknowledged that drawing attention to those who commit crimes in addition to victims may seem unwarranted to many but argued further that this measure is, nevertheless, necessary.
"We ought to do it because it's the right thing to do, but also because it's in the best interest of … the future of our democracy," Butler said.
Sitting in the audience was Milwaukee native Torre Johnson, a man who says he is personally affected by the topic.
Johnson, a reformed convict, works within the Wisconsin Community Services Re-entry program, a project committed to helping local inmates adjust to life after release. Despite having served his time decades ago, Johnson said he still faces difficulties.
"The obstacles I face today are rejections," Johnson said, "I can't get a position because of a charge I got 30 years ago."
Though the issues surrounding the criminal justice system are many, both Butler and Chisholm said that awareness is increasing.
Butler called attention to the "First Step Act," a bipartisan criminal justice reform bill that was passed in December 2018 by congress. Butler took this bill as evidence that the American people, regardless of political affiliation, are recognizing the tumultuous state of the justice system. Regardless of this feat, Butler and Chisholm said they urge the audience to continue talking.
"We have a long way to go," Chisholm said.