Marquette moves up in the US News ranking
U.S. News and World Report came out with its annual ranking of the Best Colleges in the nation Sept. 9 and placed Marquette University in a seven-way tie at 84th.
The ranking places the university five spots ahead of its previous spot at 89th.
According to U.S. News and World Report's website, the company offers dozens of more-focused rankings and listings to help prospective undergraduate students compare schools based on the qualities that matter most to them, such as ethnic diversity on campus and percentage of students who live in university housing.
Based on the mission and focus of each college or university, U.S. News and World Reports group schools schools in four main rankings: National Universities, National Liberal Arts Colleges, Regional Universities and Regional Colleges. The site determines their school placement through the Carnegie Classification of Institutions of Higher Education's Basic Classification system.
Since its founding, the system has been updated eight times to fit new molds of research on colleges and universities throughout the nation.
Erik Ugland, associate professor in the College of Communication, said students should not solely make their college decisions based on the rankings, despite the variety of analysis that goes into them.
"It's easy to put too much emphasis on these types of rankings, because they are an incomplete and sometimes misleading measure of quality," Ugland said in an email. "At the same time, elevating our ranking is never a bad thing. And if it brings more attention to the university, and leads more prospective students to see what we have to offer here, then that's a good thing."
Acting provost Kimo Ah Yun said the ranking system methodologies consider some aspects that are out of the control of the university.
"U.S. News looks at a variety of factors when determining rankings, some of which — like the peer reputation score — are somewhat beyond our control," Ah Yun said in an email.  "Additionally, U.S. News occasionally changes its methodologies, which in some cases can have an unforeseen negative impact on our position. Fortunately, despite some methodological changes this year, we were actually able to move up five places."
Along with being ranked in the top 100 schools in the nation, the ranking also named the university an "A+ school for B students" by U.S. News and World Reporting.
"I find that really funny actually because I always called myself a straight-B student when I was an undergrad," Erin Hastings, an alumna of Marquette and professor in the Department of Social and Cultural Sciences, said. "I don't see that reflected in my students though. Most of them are very driven to give their best. Even if a student isn't excelling in my class, I can tell that they have passion in other fields."
Ah Yun further said being an A+ school for B students is further recognition of what the schools stands for.
"Part of our Catholic, Jesuit mission calls us to make a Marquette education accessible to a broad population of students," Ah Yun said in an email. "That U.S. News recognizes that we provide an excellent, transformative education for all types of learners is a testament to how we are living out our mission."
The university has made significant changes to campus over the last few years with the demolition of McCormick and the addition of The Commons.
With all of the changes happening on campus, rising in the ranks should make people appreciative of going to a top 100 school in the nation, Samantha Malinis, a freshman in the College of Arts & Sciences, said.
"I think it is really great to see people recognizing how good this school actually is with all of the opportunities students can get from here," Malinis said. "Having more people recognize (Marquette) is truly fantastic."
Ah Yun further said the university continues to improve inside and outside of the classroom.
"The university continually evaluates ways that we can improve the educational experience for our students, and some of those things — such as maintaining favorable class sizes, improving retention and graduation rates, etc. — can positively impact the rankings," Ah Yun said in an email. "It's important to know that Marquette aims for continuous improvement regardless of its impact on any one ranking."
Ah Yun said the university should be proud to be recognized among the top 100 universities.
Marquette's school ranking has allowed many alumni to look back at their experiences as students while also voicing their opinion about Marquette's ranking .
Hastings, and Kaitlin Creadon, a professor of the Diedrich College of Communication both reflected on their time at Marquette.
"I was fortunate to have found a supportive community of faculty, staff and classmates in the Social and Cultural Sciences, as well as getting to experience the cliché, of "studying abroad changed my life! because it did," Hastings said.
"Like every student anywhere, it certainly had its own set of ups and downs, but overall Marquette holds an extremely special place in my heart," Creadon said in an email.
"My journey with finding the major that fit me taught me a lot about others, about patience, and even empathy…," Creadon said in an email. "I strive to follow Marquette's core values in my everyday life. Our theme/motto is Be the Difference. It's not a hard thing to incorporate into our lives. I'm so happy and blessed to be both a Marquette alumni and faculty member. Teaching the same classes in the same classrooms I had when I was a student is such a thrill."
Leave a Comment
About the Contributor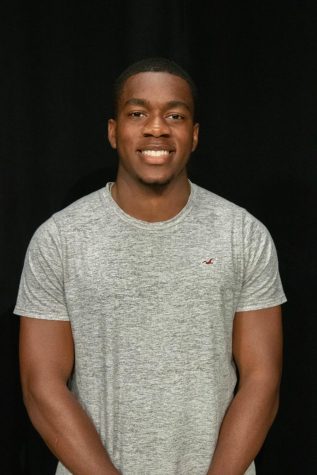 Andrew Amouzou, Executive Director
Andrew is the Executive Director of the Wire. He is a senior from Schaumburg, IL studying journalism and minoring in digital media.

In his free time,...