Blockton's collegiate success starts with upbringing, coaching at Dominican
As a child, Allazia Blockton didn't have collegiate basketball on her radar. She didn't start playing the sport until sixth grade. Her first sport was karate, not basketball.
"I didn't have anybody that played college basketball that I was around growing up," Blockton said. "I didn't really start thinking about it until I got my first offer after my freshman year of high school."
Blockton is now Marquette's all-time leading scorer, but her path to basketball wasn't always as straightforward as some other athletes.
During her childhood, playing basketball often wasn't easy. Blockton's mother Komesha had to work two jobs, one for federal law enforcement and the other as a bouncer for clubs, just so Blockton could have the opportunity to play summer travel basketball, also known as the Amateur Athletic Union.
Blockton said she remembers her mother and her grandmother's dedication to her basketball career. The two women woke up at 5 a.m. on weekends just to take Blockton to AAU tournaments.
"They were always positive and full of energy," Whitefish Bay Dominican High School coach Kevin Schramka said. "They were Zay's biggest fans. While her great-grandmother was still living, she came to some games, too."
Blockton took care of her great-grandmother, but that wasn't the first time she had to care for a family member. Her caring nature also came into play with her younger brother Cameron, who died from cancer in 2006.
She helped her mother prepare him every morning for his chemotherapy treatments.
Blockton said her mom is her best friend as she was an only child for most of her life. Her little sister, the fourth member of their tight-knit family, was born about three years ago.
"We talk about everything," Komesha said. "If she's having a bad day, she calls me. If I'm having a bad day, I call her. … We are (also) very, very close with my mom."
In total, Komesha estimated she and Blockton's grandmother have been to a total of 5,000 of Blockton's AAU, high school and college games, including every BIG EAST Tournament.
"We have a tight-knit family," Blockton said. "It's only about four of us: my grandma, my mom, my sister and me. Everything I do, I work so hard just because of them. I want to make them proud." 
Success at Dominican
Blockton first met Schramka in eighth grade when he came to her middle school games. From there, the two built a unique father-daughter bond.
"He was super holy and soft-spoken," Blockton said. "I didn't have a lot of male role models growing up. He was definitely one of the great ones in my life that helped me get to where I am today."
During Blockton's first two years of high school, Schramka was her theology teacher. He said he always made sure to check in on her.
"I was in (Schramka's) classroom just about every day just asking him for different advice," Blockton said.
The Knights never won a state title with Blockton, but the team advanced to the sectional finals during her junior and senior seasons.
"For our team to get to that far, she just had a lot of influence and input on how far we would advance," Schramka said. "We were able to play anybody in the state and compete, (especially) when you have a talent like (Blockton's) on the floor. … We are a Division III (school) but had a Division I nonconference schedule."
At Dominican, Schramka said Blockton's best quality was being able to finish in the paint. As she grew older, she became a more versatile player for the Knights.
"She shot about 65 percent from the floor, which is phenomenal," Schramka said. "Back then, she really played all five positions: center, power forward, slasher, two-guard and sometimes we had to have her handle the ball to start our offense."
As a three-year captain, Blockton was the leader of the team in scoring and behind the scenes.
"She mentored all those other players. They all looked up to her," Schramka said. "That's why we did so well because those other players respected her."
Blockton said her teammates at Dominican were all like sisters. They still keep in touch via Facebook.
"We had a really good team our freshman year and then throughout the years it was basically all of us trying to mesh it. (There) was a lot of rebuilding stages in my high school (career)," Blockton said. "Dominican was a great high school for me, and that's why I was able to come and have a lot of success at Marquette."
Blockton still makes time once a month to meet with Schramka for coffee and has helped mentor some of his players.
"Schramka called me one time," Blockton said. "He was having trouble just connecting with the girls and finding a way to salvage their season. I came back, and I actually spoke with the girls and was able to help in that way."
Schramka, now in his 11th year coaching at Dominican, said he always knew Blockton was a special player.
"I'm very fortunate to have her come into my life and program at Dominican. She was definitely a gift and a blessing for us," Schramka said. "She has this incredible passion and drive to be the best. I think the great ones have that. … She never gets bored with basketball, it's like part of her, it's unreal."
Unusual recruitment
The recruiting process for Blockton was a little different than most. Although Marquette was her first scholarship offer, Blockton didn't think her fast style of play fit in with former head coach Terri Mitchell's roster at that time.
She said she was set on going to Indiana University, but she reconsidered her options when Carolyn Kieger became the head coach at Marquette.
"With Kieger coming in, it was just a whole trusting process," Blockton said. "She didn't have a lot of players to come behind her and say, 'This is our program.' I knew the girls that I was coming in with … I was like, 'I think we have a chance to make something really special at Marquette.'"
Four years later, Blockton's surrounding cast of fellow seniors Natisha Hiedeman, Erika Davenport, Amani Wilborn and Danielle King are her best friends. She said their relationship spans much farther than inside the team's facilities at the Al McGuire Center.
King, Davenport and Blockton even went on college visits to Marquette and the University of Minnesota together.
"It was crazy how they ended up at the same school," Komesha said.
Komesha has known Wilborn since junior high school and Davenport, King and Hiedeman since high school. She described herself as the team mom. Blockton's grandmother buys her granddaughter's teammates Christmas presents every year.
Since three of the five seniors are from the Milwaukee area, Komesha said they are all extremely close.
"It's been what I look forward to every day going to practice," Blockton said. "We care about each other so much. … Being a college athlete is hard. It would have been twice as hard if I didn't have them by my side my whole career."
Importance of family
When Blockton suffered an ankle injury against Providence Dec. 29 and missed five games, her support system was Komesha and her 3-year-old sister.
Komesha said she sent Blockton motivational scriptures, telling her God had a better plan. Blockton said her sister's motivation also helped her stay strong to have a quicker recovery.
"My injury, that was a tough spot. I've never been injured in my career," Blockton said. "It was a lot of days when I was like, 'I can't do this.' … I just looked at my little sister and I was like, 'That's my reason why.'"
Even though Blockton and her sister have an 18-year gap in age, Komesha said her youngest daughter worships Blockton. Not a day goes by that the two don't FaceTime.
"'Yaya is important,' that's what she calls (Blockton)," Komesha said. "She said 'Yaya' before she said 'momma.'"
"If I'm not pleasing anybody, I know I'm pleasing (my sister)," Blockton said. "That just gives me extra motivation and always keeps something positive in my life."
Blockton doesn't quite tell her family everything, though. When Blockton was honored as the Baird Student-Athlete of the Month, her parents didn't find out until checking Facebook.
"I didn't know that she got that," Komesha said. "Somebody sent me (and her dad) a message on Facebook of her getting the award. She never told us."
"You wouldn't even know she won some awards," Schramka said. "She was a typical kid that team awards were more important than her. … Her humility is what draws people to her."
Post-graduation plans
Blockton, who is an advertising major with a minor in biomedical sciences, said she wants to be like former Providence College alumna and ESPN TV analyst Doris Burke. That is why she's currently a communications intern with Marquette Athletics.
From the moment Blockton was born, Komesha said she and her mother always knew Blockton was going to accomplish something great.
"She's definitely going to play professional ball," Schramka said.
Blockton said her goal is to be able to give back to Milwaukee, like LeBron James did in Cleveland.
"Hopefully I get in the position enough where I can come back and help the community, whether it be building a park or building a gym," Blockton said.
Leave a Comment
About the Contributor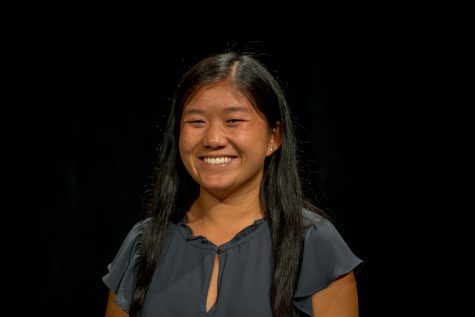 Zoe Comerford, Executive Sports Editor
Zoe Comerford is the Executive Sports Editor for the Marquette Wire. She is a senior from Naperville, Illinois, majoring in Journalism and Digital Media...