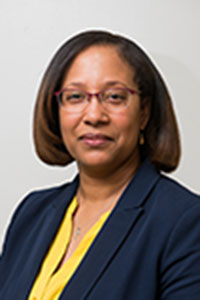 Edith Hudson, former assistant police chief for the Milwaukee Police Department, was named Marquette University Police Department's chief Monday afternoon.
She will officially take command of MUPD Dec. 17, according to a university news release.
"Edith Hudson was a decorated officer and champion of community policing for 25 years, and I am pleased that she is bringing her leadership, dedication to law enforcement and passion for outreach to Marquette University as our new police chief," President Michael Lovell said in the statement.
MUPD has been without a chief since Paul Mascari, former Marquette University Police Department police chief, resigned from his position in May after being arrested for operating while intoxicated in January.
Capt. Jeff Kranz has served as interim chief, and he said he is excited to work with Hudson again. Kranz and Hudson are both former MPD tactical squad leaders.
Hudson also has experience as commander of MPD's District 5 station, acting commander of the District 3 station, shift commander at Districts 3, 5 and 2 and shift commander for the Domestic Violence Unit in the Sensitive Crimes Division, according to the release.
After Hudson retired from MPD active duty in good standing in November 2015, the release said she recently served as a security manager at Briggs and Stratton Corp for Wisconsin operations.
"She has a wealth of policing experience to share with the department and will bring a fresh set of ideas to build on MUPD's community-based policing philosophy," Kranz said in an email.
The search process began in early June and included 10 campus and community listening sessions, which included input from students, faculty, staff, local law enforcement and community partners.
"Edith Hudson is an awesome choice for the university, and I think the students will really connect with her," Jazzmine Haygood, a junior in the College of Arts & Sciences who served on the search committee, said in the statement.
Joel Pogodzinski, Marquette's senior vice president and chief operating officer who Hudson will report to, thanked the search committee for "bringing forth such a talented, qualified pool of candidates."
The release said Hudson was responsible for one-third of MPD's personnel as assistant chief, which comprises of approximately 800 police and civilian employees. She said her dedication to community policing came when she took over command responsibilities for District 3, which includes Marquette University and the Near West Side neighborhood.
"I know our campus community and surrounding Near West Side neighborhood will quickly embrace Chief Hudson and her inspirational brand of community policing, outreach and education that aligns perfectly with Marquette's Catholic, Jesuit mission," Lovell said in the statement.
"I am thrilled to now bring my decades of experience to Marquette, and look forward to working closely with students, faculty, staff, local law enforcement and community organizations to ensure a safe, thriving campus for all," Hudson said in the release.