Volleyball advances to Sweet 16 after second consecutive NCAA Tournament sweep
Marquette volleyball's historic season will last at least one week longer after the Golden Eagles swept the University of Cincinnati Bearcats Saturday night at the Al McGuire Center.
This is the first time in program history Marquette has made it to the second weekend of the NCAA Tournament. The Golden Eagles won their sets against the Bearcats 25-19, 25-21 and 25-16.
"The culture and chemistry of this team is truly special," Marquette head coach Ryan Theis said. "We certainly had bumps and bruises along the way. … I couldn't be happier for them."
Junior Allie Barber was mentally in the zone during the beginning of the opening set, recording the first three kills for the Golden Eagles. Freshman Ellie Koontz recorded the first non Barber kill to put the team up 7-6.
Consecutive Hope Werch service aces fueled a 5-1 Marquette run to take a 17-12 lead. The Bearcats fought back to 19-17, but it was not enough as Marquette captured the first set 25-19.
"Tactically, they probably picked some good spots just to take us out of our rhythm as far as attacking," Cincinnati head coach Molly Alvey said. "Marquette had a tremendous serving match today and probably knocked us off our game a little bit offensively."
The Golden Eagles took an early 7-3 lead in the second frame, but Cincinnati cut its deficit to 9-8 after an Alvey timeout. Marquette eventually won the set 25-20.
With a 2-0 set lead, the Golden Eagles had all the momentum in the final frame. Marquette started the set with an 8-2 run, which included consecutive aces from senior Anna Haak. Although the Golden Eagles extended their lead to six at 12-6, the Bearcats weren't done just yet.
"One thing we've stuck to is that … every single person that's on the court has to do something just a little bit different," Alvey said. "They had built the confidence over the course of the season to know that it doesn't matter what situation we're in until a match is over. There's still time left to play."
Cincinnati cut Marquette's lead down to one, but a crucial block from junior Madeline Mosher and sophomore Elizabeth Orf initiated a 6-0 Marquette run. The Golden Eagles went on to secure the match 25-16, and with that, their ticket into the Sweet 16.
Barber led all players with 18 kills, and senior Anna Haak recorded a match-high 12 digs and five service aces. Junior Lauren Speckman dished out a team-high 21 assists.
Redshirt junior Jordan Thompson finished with a team-high 16 kills, hitting only a .143 clip.
"We did a really good job of having a good defensive scheme centered around (Thompson)," Rosenthal said. "We stuck to (the game plan) really well and were able to execute our plans."
Rosenthal said the night was sentimental, as it was her final match at the Al McGuire Center.
"I'm just so happy we got another chance to play at home at the Al McGuire Center," Rosenthal said. "The fact we get to go out on a win, we get to host and we get to go have our sendoff into the Sweet 16 and have the support and love of Marquette University all around us is something so special."
The 6-foot-6 middle blocker came to Marquette in 2014 and since then has earned numerous BIG EAST and national honors. She also played for the Collegiate National Team program for three consecutive years.
The 14th-seeded Marquette (28-6, 15-2 BIG EAST) looks to continue a season of firsts in the Sweet 16 Friday at the University of Illinois Urbana-Champaign. The Golden Eagles will attempt to upset the No. 3 Fighting Illini (30-3, 17-3 Big Ten). The game is set for 11 a.m. Central Standard Time.
Junior Jacqueline Quade is one of the Illini's best players, having just recorded her eighth double-double of this season Saturday night, leading her team with 14 kills and adding 12 digs. She also was part of the Big Ten All-Freshman Team in 2016.
Illinois is on a season-best 15 match-winning streak. This will be its 18th NCAA Regional appearance and the second in two seasons for Illini head coach Chris Tamas.
As a result of the matchup, Rosenthal will play against the coach she played under with the Collegiate National Team last summer.
"Chris is a great guy," Rosenthal said. "It was really funny because he's like 'Oh, Rosenthal, I know your story.' … He's a really easy-going guy."
Although Marquette is not favored in the matchup, the team seems ready for the challenge.
"It's just another step in our goals each season to go farther than any Marquette team has ever gone," Rosenthal said. "We're just climbing our mountain every single day."
About the Contributor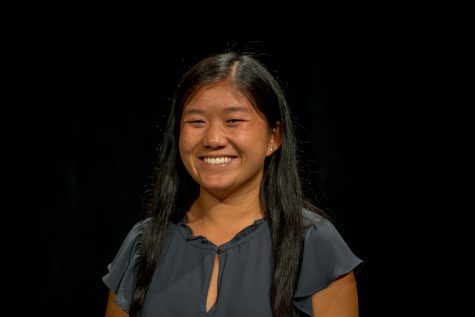 Zoe Comerford, Executive Sports Editor
Zoe Comerford is the Executive Sports Editor for the Marquette Wire. She is a senior from Naperville, Illinois, majoring in Journalism and Digital Media...