Volleyball sweeps HPU in opening round of NCAA Tournament
For the first time in program history, the Golden Eagles defeated a team on their home court in the NCAA Tournament, defeating the High Point University Panthers 3-0 (25-11, 25-19, 25-15) in the first round of the NCAA Tournament Friday night.
"Just being able to do our preparation here at home was a really big boost to the team," redshirt senior Jenna Rosenthal said. "Everyone was just really excited to have another home stand at the Al McGuire Center."
From the beginning, it was utter Marquette dominance. Two consecutive service aces from junior setter Lauren Speckman sparked an 11-3 run for Marquette. The Golden Eagles never relinquished the lead, winning 25-11.
"We couldn't hear much because I think the lacrosse section behind us was more than enough energy," head coach Ryan Theis said. "When things are rolling, confidence is high."
"There were a lot of sports out here supporting tonight," junior Lauren Speckman said. "I think that's a huge part of our success."
HPU had five kills and five errors on 31 attempts in the first half. Meanwhile, Marquette had five service aces in the first set alone.
"(Marquette) was kind of a step ahead of us at every point," HPU head coach Ryan Meek said. "They served really well, passed really well (and) kind of got us out of what we like to do."
The Golden Eagles had a shaky start to the second frame, falling behind 4-1. The Panthers maintained the lead until Marquette senior Anna Haak provided a crucial service ace to tie the game at 13-13. Three kills from junior Allie Barber then gave Marquette its first lead of the set at 16-14. The Golden Eagles won the set 25-19.
"Early in the second I think High Point got pretty hot," Theis said. "They had nine kills when we called our first timeout. … We really locked in defensively and started playing a little bit better for the second half."
The final set was a more accurate display of how Marquette normally plays. The Golden Eagles went on a 6-0 scoring run to extend the lead to 19-10. Sophomore Hope Werch's service ace gave MU a 23-12 lead. The lead allowed Theis to substitute players like senior Abby Julian into the game before securing the 25-15 victory.
Barber led the Golden Eagles with a match-high 12 kills, Speckman recorded a match-high 18 assists and Rosenthal had four of Marquette's 10 service aces. Sophomore Martha Konovodoff chipped in a team-high 11 digs.
No HPU player had more than nine kills. The Panthers had a combined .054 hitting percentage and had 22 attack errors.
"We thought coming in we could do some things that would give Marquette some trouble," Meek said. "When we did serve tough and we did pass well, we were able to get our block and transition game going. … We scored some points (and) gave them some problems, but unfortunately that wasn't enough."
The Golden Eagles have already gone farther into the tournament than in 2017, when they lost to in-state rival Wisconsin in the first round.
"It's just another step in our goals each season to go farther than any Marquette team has ever gone," Rosenthal said. "We're just climbing our mountain every single day and we're going to take each game as it comes."
Now No. 15 Marquette (27-6, 15-2 BIG EAST) will face off against the University of Cincinnati Bearcats Saturday evening in the second round of the NCAA Tournament. The game is slated for 6 p.m. Central time.
"These guys are pretty fired up to have this opportunity," Theis said. "They've worked all year to be here, so (we'll) come out swinging."
Leave a Comment
About the Contributor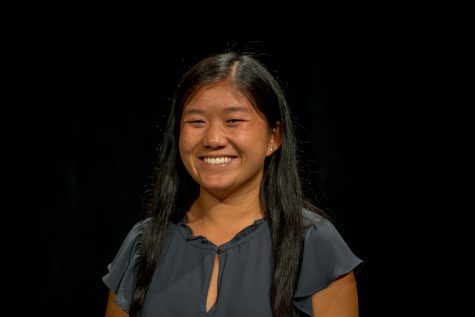 Zoe Comerford, Executive Sports Editor
Zoe Comerford is the Executive Sports Editor for the Marquette Wire. She is a senior from Naperville, Illinois, majoring in Journalism and Digital Media...