EDITORIAL: Residence hall policies for break periods alienate students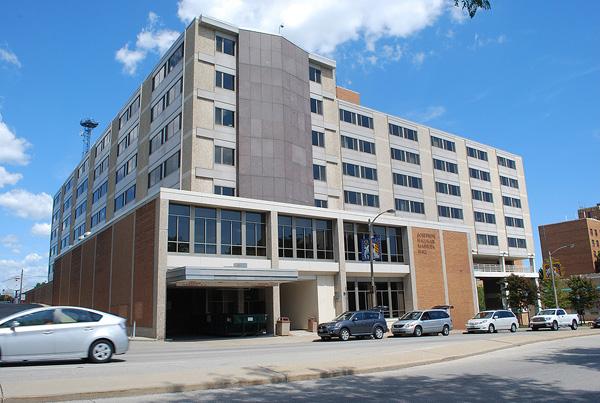 With Thanksgiving break on the horizon, students living in residence halls can opt to leave or stay on campus for the long weekend. But during Christmas break, Marquette's residence policies can leave some students without options, namely international or out-of-state students who study at Marquette.
The policies state that all residence halls are open during Thanksgiving and Easter breaks, but visitation will end at 1 a.m. each day. Sean Berthhold, associate director of residence life and operations, said in an email that Mashuda and Humphrey Hall will remain open during Christmas and spring breaks. He added that there is $30 per night and only those who are permanent residents of these halls may stay there. During all breaks no overnight visitation is allowed and no meal service is offered.
On top of the fact that this policy alienates many students, the fact that no meal service is offered poses an additional problem. This could lead to heightened expenses for students in order to eat during breaks. This is too much to ask of students when they already have to pay for semester meal plans that cost thousands of dollars. 

Another issue with this residence hall policy is that not all students are allowed to stay on campus during break periods. Those who live in Mashuda and Humphrey are permitted to stay, while others are not so lucky. Those who live in other residence halls and wish to stay have to try to make an arrangement with someone who lives off campus, or they must return home.
For international students who live overseas or students who live outside of the Midwest, expenses to travel home for break may not be realistic. Students should be able to stay in their own residence halls if they need to save money or simply can't afford hundreds of dollars to travel home. In addition to that, every student's family situation is different and some may find it difficult to spend the entirety of breaks with their families.
Students who work jobs in Milwaukee are also at risk of more frequent and unnecessary spending during breaks as a result of the residence policies. Christmas break is an especially intense time for those who work retail, and it may be necessary for those students to stay in town and continue working to retain their jobs.
Not only should Marquette waive the fee per night for students staying on campus, but all students who live in residence halls during the year should have the option to stay on campus.
Of course there are safety implications that go along with having students stay over breaks, such as having enough desk receptionists and safety officers to staff front desks. If students are paying to live in the residence halls for an entire academic year, they should have accommodations throughout the entire year, not only during classes and certain breaks.
Considering the rising cost of higher education, students should have the security of being able to stay on campus without hassle or extra cost. Marquette should better accommodate for the variety of situations students face when academic breaks approach.
Overall, a change in these residence hall policies would show heightened care and understanding for students and their unique circumstances.
Leave a Comment