College of nursing receives $1 million estate gift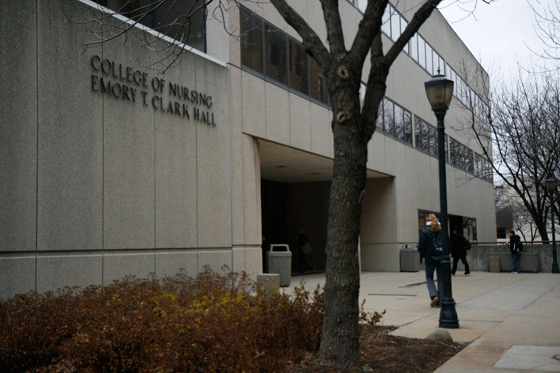 Last week, Barbara Regan, an alumna of the College of Nursing, gave a $1 million estate gift in honor of her late husband Michael Regan to Marquette University for scholarships for undergraduate and graduate nursing students.
Dean of the College of Nursing Janet Krejci said that Barbara, along with the entire Regan family, wanted to give back to Marquette because they have three generations of Marquette students within their family.
"We are in deep gratitude for their gift, and it's more important than ever with more students that we have more scholarships," Krejci said.
According to Marquette's website, the College of Nursing B.S.N. program started in 1936. Since then the college has expanded with new programs for students.
"We normally have over 1600 applications for 150 spots in the nursing school," Krejci said.
Krejci said that she is excited for Marquette to receive this donation.  
"We don't get this kind of support very often and to make a difference in the future of nursing students," Krejci said. "We are tireless in our work to support Marquette nurses."
Connor Kropf, a junior in the College of Nursing, said he feels fortunate to be at Marquette and to benefit from scholarships that Marquette offers.
"I've worked at the (Veterans Affairs Medical Center), Aurora Sinai Hospital and in the SIM labs," Kropf said. "It's hard to think of any hospitals that Marquette doesn't have connections with."
Kropf said he hopes to become a nurse practitioner.
"Marquette has the option of a fantastic grad school, and the nursing program is well known throughout the Midwest and the U.S., which can help me get a job where I want," Kropf said. 
According to the American Association of Colleges of Nursing, there will be a nationwide shortage of nurses until 2030  because more nurses are leaving the workforce each year due to their old age. Kropf said the issue of the nursing shortage will impact the country. 
"In many cases, it's like a domino effect because there's a shortage of teachers and staff if no nurses are looking to fill those positions," Kropf said.
Despite this, Kropf said he has never had a problem with fulfilling his necessary classes at Marquette.
Nolan Cox, a freshman in the College of Nursing, said he hopes the scholarship creates more opportunities for underprivileged students and applicants.
"The grant will expand who can enter the nursing program for people who otherwise wouldn't be able to come to Marquette," Cox said. "Diversity can help people change stereotypical thoughts of what a nursing program looks like."
Cox said he is thankful for Marquette's engaging faculty and staff members.
"Marquette gives me a solid base in the nursing knowledge that I can then build off of with workplace experience and graduate studies," Cox said.
Cox said he thinks Marquette's nursing program stands out from other universities.
"A lot of schools have nursing programs, but many don't put the money towards it," Cox said. "Marquette has been devoted to researching what makes a good nursing school."
Krejci said Marquette is lucky to have the support of Regan.
"She understands the values of the Marquette education and without her support, there would be students that would not be able to attend and become a nurse," Krejci said.
Leave a Comment