Students dish on Halloween costume plans
Finding inspiration from social media, movies and friends, Marquette students are getting creative planning this year's Halloween costumes.
While some spend weeks constructing their costumes, it seems that many Marquette students find themselves grabbing something from their closet at the last second, often opting for something funny. 
Caroline Waltman, a junior in the College of Health Sciences, covered her house in Halloween decorations, but isn't putting as much preparation into her costume. This year she's dressing up as Napoleon Dynamite.
"I already had the t-shirt and mom jeans, and it didn't cost anything," Waltman said. She said she usually picks whatever is easiest to put together and most comfortable. Waltman said she isn't a big fan of scary costumes and would rather don a funny costume. 
"We usually go to Goodwill and plan something the day of," said Michael Flatley, a senior in the College of Arts & Sciences. While he isn't dressing up this year, Flately dressed up as Ed Sheeran last Halloween. Like other students, Flately finds it hard to execute a scary costume and instead goes for something funny, noting that it's the idea behind the costume that matters. 
Ellie Kahle, a freshman in the College of Health Sciences, is dressing up as a skier this Halloween.
"I bought a puffy jacket. I'm dressing for the weather," said Kahle, noting she values comfort and creativity in a good costume. 
With a Google search and Pinterest to thank for her costume idea, Alexandria Brown, a senior in the College of Arts & Sciences, is planning on being a belly dancer. Brown said she has tried her hand at scary costumes, but tends to choose costumes that are cute. 
"I'm more of a last second person, but I give props to people who go all out," Brown said. 
Although many students seem to throw their Halloween costumes together, students like Sam Keran, a senior in the College of Business Administration, have more of a detailed plan for their costumes.
"My roommates and I sit down together and brainstorm each year," Keran said. This year's decision: the Scooby-Doo gang. Keran will be wearing the iconic orange ensemble of Velma, with a wig to complete the look.
"I go all out. I like seeing people's reactions," Keran said. With the help of a morph suit, Keran said he had fun messing with people and making them laugh in his Power Rangers costume last year.
"I think it's cooler when people go for funny. Scary isn't very approachable," said Lexi Johnson, a senior in the College of Health Sciences. Not dressing up herself this year, Johnson put her efforts into helping her friends think of costumes. 
"Last year my friend was the witch from The Wizard of Oz. She was painted completely green," Johnson recalled. 
"Sometimes group costumes are more work, but they're more fun," Waltman said, noting that some of her friends are planning on dressing up together this year. 
Kahle said she feels that group costumes are funnier. While she is wearing a solo costume this year, Kahle said that last year she dressed up as Lucky Charms with her friends.  
Becca Stauffer, a freshman in the College of Art & Sciences said she likes to go big or go home when it comes to Halloween costumes. This year Stauffer is pulling inspiration from one of her favorite movies and dressing as Wayne from Wayne's World. Stauffer said her friends share her enthusiasm for Halloween. 
"My friend was a trophy one year. I helped paint her whole body in gold body glitter. It was a long process," Stauffer said.
Whether they put weeks of preparation into their costumes or throw something together minutes before heading out the door, students can look forward to seeing plenty of creative costumes on campus this Halloween. 
Leave a Comment
About the Contributor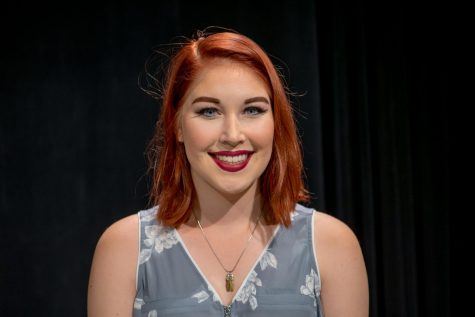 Kendra Bell
Kendra Bell is a copy editor and former entertainment producer for the Marquette Wire. She is a senior from Cary, Illinois, majoring in digital media....