Men's soccer moves to fourth in BIG EAST with win over Xavier
Hang on for a minute...we're trying to find some more stories you might like.
Marquette men's soccer's odds of hosting a BIG EAST Tournament match became significantly easier after defeating Xavier 2-1 Saturday night at Valley Fields.
The win moves the Golden Eagles to fourth place in the BIG EAST standings at 3-2-1. A win against Butler next Saturday would clinch a spot in the six-team BIG EAST Tournament field.
"It's probably the most important three points of the season," head coach Louis Bennett said. "We've got three more games, and there's the possibility of nine more points, so we're going to go after all the points."
The Musketeers had the lead for most of the match, but Marquette junior Luka Prpa quickly changed that in the second half. His first goal came in the 68th minute on a free kick. The shot ricocheted off the crossbar and into the net.
"I've been working on (free kicks)," Prpa said. "Lately I've felt confident taking them. I stepped up, and thankfully it went in."
The Wind Lake, Wisconsin, native then gave the Golden Eagles the lead in the 77th minute on a shot off the goalkeeper from about 10 yards away.
"You never really find a lot of space (against Xavier). You find small pockets of space, and then you have to take advantage of it," Bennett said. "Luka showed a little bit of that something something that everyone knows is in (his skillset)."
It was Prpa's third goal of the season and fourth goal since his 10-goal freshman campaign.
"It has been this year a little difficult because he's been man-marked by a lot of people," Bennett said. "Because the other guys have stepped up, and they've looked dangerous, they've been able to give him a little more freedom he needs."
Xavier's lone goal came in the seventh minute on a one-touch strike by Simen Hestnes from six yards out. It was one of two Xavier shots on goal.
"(Marquette goalkeeper Luis Barraza) was captaining the team from the back," Bennett said. "He was organizing. He was doing a lot of preventative (measures). We had a strict plan that we weren't going to let (the Musketeers) get out of their half, and they didn't."
"We got sucker-punched by a counter-puncher," Bennett said.
The Golden Eagles finished with a 15-6 shot advantage, but only four shots were on goal.
Marquette has a four-day break before visiting No. 8 Creighton Wednesday. The Golden Eagles defeated the Bluejays in 2017 but lost the previous three matches. Marquette is not lacking any confidence entering Wednesday's match.
"We probably have one of the most difficult games to play (against Creighton), but let's face it. What game isn't difficult in the BIG EAST?" Bennett said. "Anything can happen."
"We'll take our chances," Prpa said. "We're confident against any team."

About the Writer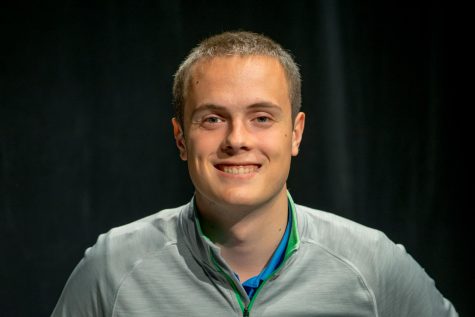 John Steppe, Executive Sports Editor
John Steppe is the executive sports editor for the Marquette Wire. He is a senior from New Berlin, Wisconsin, majoring in journalism and minoring in digital...