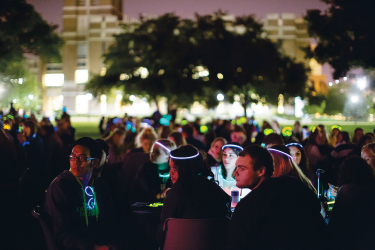 Glow Bingo, an event hosted by Marquette's Residence Hall Association, is an annual Homecoming event in its third year, featuring multiple games of bingo with impressive prizes and glow sticks for players. The series of free bingo games will take place Wednesday in the AMU Monaghan Ballroom from 8:30-10 p.m.
RHA President Abbey Karpick, a junior in the College of Communication, is in charge of setting up Glow Bingo for the first time. Karpick said she hopes that this year will be the best ever.
Winners will be able to claim prizes such as a meet and greet with the Rock the Mall performers, The All-American Rejects, a men's basketball season ticket package and a variety of smaller prizes.
"There are 10 games of bingo with increasingly cool prizes, including … a dinner with President Lovell. This year we are going to have even more glowy stuff and black lights as opposed to just glow sticks in the past," Karpick said.
The initial idea for the untraditional event began two years ago. It was inspired by Late Night Marquette's popular bingo and trivia events. Once RHA realized that there was no Homecoming event involving either of those, the association decided to create the event.
"It has always gone extremely well — people love bingo. I think that previous RHA presidents have done an amazing job planning it and I hope that I can continue the legacy this year," Karpick said. "We don't expect to see more people, but about the same as last year." Last year's event attracted nearly 600 people, about the maximum capacity Karpick said the room will hold.
Karpick encouraged people to attend this year's Glow Bingo because it is a free and fun event to attend while getting into the school spirit during Homecoming week.
"I would encourage people to attend this year because of the great prizes and people calling some of the games. As always, President Lovell will be calling the game for the dinner with him. But new this year, coach Wojo is able to come and call the game for season tickets," Karpick said. "On top of that, it's a great free thing to do during the week, and people have the opportunity to get some awesome stuff."
For Dan Evanoff, a junior in the College of Arts & Sciences, this will be his second year in a row attending Glow Bingo. Usually not much of a game person, Evanoff was intrigued by the added twist of glow sticks and decided to check it out.
"I went to Glow Bingo last year and it was actually pretty fun. I was a little apprehensive at first, but it was not boring at all and the glow stick part made it unique. Although this year I'm trying for one of the prizes because I wasn't so lucky last year," Evanoff said.
Ian Griffith, a junior in the College of Business Administration, said he looks forward to attending the event for the first time ever. Griffith did not attend many Homecoming events last year due to his schedule, but this year he decided to clear some time for school spirit. Glow Bingo is one event specifically on his Homecoming week agenda.
"This year I really want to be able to go to as many events as I can, and that includes Glow Bingo. It seems like a really easygoing activity and the glow stick twist to bingo is a great idea," Griffith said. "Plus, if I won one of the prizes, that would be awesome and an added bonus."