The Faber Center receives blessing after renovations
The Faber Center for Ignatian Spirituality was re-blessed on Sept. 5 after recently renovating its space. The new area was re-blessed to honor the change and keep the space sacred.
The religious and faith based center for faculty and staff was established in 2006.
In 2005, the Faber Center moved into the Walter Schroeder Health Sciences and Education Complex.
The center thought the Schroeder Complex was a temporary location. However, the center has been there for 13 years and just started renovations.
"For some time, the school was thinking about where other priorities inside the university would go," said Michael Dante, director of the Faber Center. "At one point, there were thoughts that maybe the physician assistant program might be here, so we thought we might be moving."
Dante said that when the physician assistant school began being built when it was clear the center would not be moving to another location for some time.
"The school realized it was a better investment for the PA school to have its own building, and we realized we were going to be staying," Dante said.
Dante said the blessing of a location grants an opportunity for the community to gather.
"It acknowledges the change and the work that is happening," he said.
The blessing ceremony included an open house and a following lunch. The ceremony included blessings of the space, creativity, love, service and also included an exchange of peace for the participants. Faculty and staff were invited to join.
Aside from the purpose of promoting Ignatian spirituality among faculty and staff, the Faber Center was created as a resource for all in the community who wish to explore and deepen their spiritual life and practice. They have the opportunity to articulate theological and religious beliefs and questions, discern personal and professional paths and find sacred and holy meaning in their lives, according to the center's website.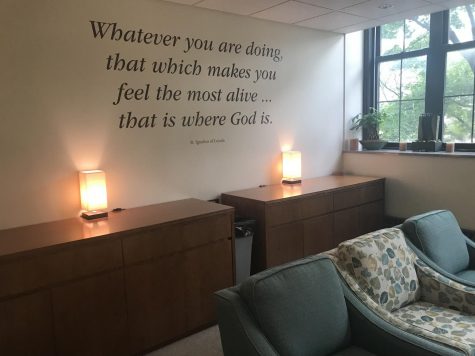 "We were trying to give people the experience of a meditative space, and we tried to incorporate more natural elements," said Julie Bach, the administrative assistant for the Faber Center.
Sister Anne Arabome, the associate director of the Faber Center, said initially the center had heavy furniture that took up a lot of space and could only hold 12 people. 
"There is something very important fundamentally in terms of how we live, how we imagine, and space is very much a part of that," Arabome said. "I believe every space should be sacred."
In the new space, there are quotes and artwork that promote Jesuit ideals and tradition, as well as four additional chairs for faculty to meet and discuss spirituality.
"The space being peaceful and having a sense of beauty was very important to the center… (we wanted it to be) a space where staff could reflect and go through their spiritual journey," Arabome said.