Harley-Davidson celebrates 115th anniversary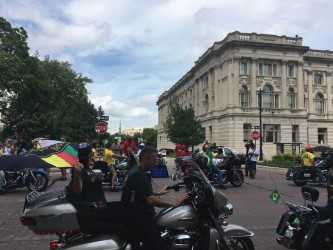 This past Sunday, Harley-Davidson motorcyclists from all over the globe shut down Wisconsin Avenue for a parade.
Riders traveled from every single state in the country, as well as in groups of international visitors from Mexico, Canada, Indonesia, Europe, Asia, South America, and more.
Thousands of Harley-Davidson bikes, new and vintage, driven by a variety of riders, filled the parade and the entire city over Labor Day weekend.
As the birthplace of the American motorcycle, Milwaukee annually hosts a custom bike show at the Harley-Davidson Museum. But as 2018 marks the 115th anniversary of Harley-Davidson, a full weekend of festivities and camaraderie this year drew bikers and spectators from near and far. 
Rob and Susan Kelly from Illinois highly anticipated this event and said it rose to meet every one of their expectations.
"We have been looking forward to this event for a while now," Susan said. "When tons of people gather for one purpose and have a good time, it makes for an unforgettable memory."
Milwaukee native Steve Beyer felt the same, having marked up his calendar with many events from the Harley-Davidson-filled weekend. Beyer said he has been fascinated with motorcycles since he was a young kid, and to see his passion shared by so many people celebrating in his hometown was an extremely special experience.
"Motorcycles and all types of vehicles have always sparked an interest with me," Beyer said. "I've been growing up very passionate about them, so it's very special to me to see all these people gathered here for the same reason I am."
The festival included biking activities, racing, stunt shows, factory tours, a riding skills competition, street parties, live music, the parade and more. Besides a full itinerary of activities, motorcycle owner Claire Pages noted that restaurants and businesses all over Milwaukee offered deals and discounts to accommodate the large numbers of visitors this weekend. 
"Milwaukee has been booming this weekend because of the festival. It's the fact that there are so many things to do when it comes to this event and [that] it's all tailored to extreme Harley lovers that brings people from all around to these parts," Pages said.
The festival appealed to more than just motorcycle riders. Students on campus could not help but take notice of the large numbers of bikers riding through the streets.
For Justin Palmer, a junior in the College of Communication, the Harley-Davidson festival was a sight to see. Palmer said he never saw a biker festival of this magnitude before, so to see so many bikers clogging up Wisconsin Avenue was a shock.
Despite not being a big Harley-Davidson fan himself, Palmer said this weekend's camaraderie around Milwaukee made him really proud to go to school at Marquette.
"At first I actually had no idea what was going on when I was walking on campus and I saw so many motorcycles riding around," Palmer said. "I asked my friends and they explained about the festival, which was actually really cool to me. A bunch of people coming together for something they love is very cool."
With initial concerns about a forecast full of rain and storms, the weather cooperated, allowing for a more comfortable weekend of events.
Leave a Comment