As political science professor John McAdams prepares for his return to campus after winning a years-long legal battle with the university, Marquette is moving to reshape the policies at the heart of the issue.
The controversy began in late 2014 when McAdams published a blog post naming a graduate student instructor and linked the blog to her personal website. The blog post criticized the student instructor for her handling of an after-class interaction with an undergraduate.
As the blog post gained attention, so did the graduate student instructor. After receiving more than 100 harassing emails and letters, the student left Marquette for another university.  
In early 2015, McAdams received a letter from the dean of Marquette's College of Arts & Sciences, Richard Holz, informing him that the administration planned to revoke his tenure and dismiss him from the faculty.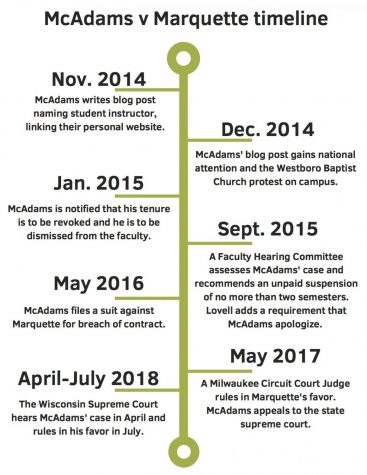 McAdams appealed to the university's academic senate, and the Faculty Hearing Committee heard the case in September 2015. After reviewing the case, the committee found Marquette abused its authority by dismissing McAdams without first allowing faculty review, but that McAdams' actions warranted an unpaid suspension of no more than two semesters.
University President Michael Lovell accepted this recommendation, but added a caveat of his own: McAdams had to privately apologize to the student and express remorse for his actions.
McAdams refused and filed a lawsuit against the university, claiming his contractually-promised academic freedom was violated. After a Milwaukee circuit court judge ruled in Marquette's favor in May 2017, McAdams' petitioned the Wisconsin Supreme Court to accept his case, which it did.
The court heard the case in April and released its decision at the beginning of July. It ruled that McAdams would be reinstated and receive damages, including back pay for the seven semesters he spent on suspension.
Provost Dan Myers told the academic senate in a meeting Monday that McAdams is taking the sabbatical that was due to him before his suspension, but he will resume lecturing in January.
McAdams said he is excited to be back on campus and get back to teaching.
"I'll be back in the spring of 2019, but for the fall of 2018, I will be on sabattical," he said.
McAdams will spend the semester, during which he is paid his regular salary, writing and researching.
McAdams said there isn't one thing or class that he missed the most, but said that he will be offering his course on the Kennedy Assassination.
Lowell Barrington, chair of the political science department, said in an email, "In Spring 2019, Dr. McAdams will be offering POSC 4191 (The Logic of Social Inquiry: The Kennedy Assassination) and POSC 2201 (American Politics)."
McAdams also said he will be teaching a new class in the coming years.
"He will be developing an undergraduate political science statistics course for us, but that class will not be offered until fall 2019. Right now, we do not offer our own statistics class for our majors," Barrington said. "I am pleased that he has agreed to develop this class for us."
McAdams said he isn't worried about coming back.
"People in the university leadership may still be upset… But the people in the Political Science department, my colleagues and the chair, have just accepted that, 'Ok, McAdams is coming back,'" he said.
The university agreed to comply with the court's ruling, but maintained that its actions were in the right. In an email to the student body following the decision, Lovell wrote, "We stood up for decency and for the rights of our students, and we remain committed to upholding those values as a community. Our values do not change when they are challenged. They become stronger."
McAdams' contract was integral to both his and the university's arguments. While McAdams said he believed the university violated his academic freedom, Marquette held that McAdams failed to uphold the professional standards of conduct detailed in his contract.
Ralph Weber, Marquette's lawyer in the case, said academic freedom is often conflated with free speech, but the two are not the same. Academic freedom, unlike free speech, is content-based and meant to align with professional standards, Weber said. He said McAdams' use of his blog to share a graduate student's contact information was not in line with those standards.
The university is now rewriting the language detailing the standards of conduct Marquette claimed McAdams failed to meet.
"The administration and faculty plan to work together to ensure that professional standards are enforced in a fair and effective way," university spokesperson Chris Jenkins said in an email.
Michelle Mynlieff, chair of the academic senate, said in addition to tightening the language around professional expectations, she would also like to see a cyber bullying policy added to the faculty handbook.
"There are some clear things you shouldn't do," she said. She said a clear policy would make those things explicit.
The process for rewriting the policies takes input from the entire Senate, so Mynlieff was not able to provide an exact timeline for when she expects the policy to be put into effect.
Story continues below advertisement