Dayton's JaVonna Layfield could be menace against Marquette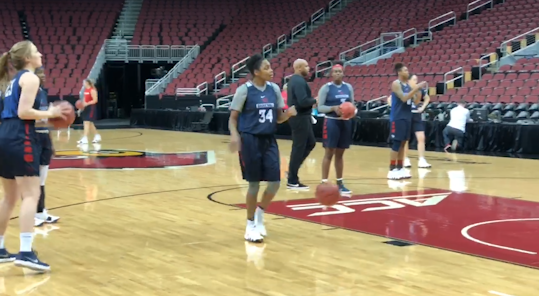 At first glance, Dayton senior JaVonna Layfield would hardly seem like an elite rebounder. She's shorter than her head coach and, at 5-foot-11, would be the eighth tallest player on Marquette's roster.
"We just measured ourselves in the hallway, and I am taller than her," Dayton head coach Shauna Green said Thursday. "I'm six feet, so she's under my size."
Yet Layfield could be Marquette's worst nightmare on the boards Friday afternoon in the first round of the NCAA Tournament. The senior guard averages 12.9 rebounds per game this season despite her lack of height, putting her fourth in NCAA Division I ranks.
"What she does is amazing at her height," Green said. "I wish I could sit here and say that we taught her it. We didn't. She has an innate ability to pursue the ball, and she has an unbelievable knack for just making a read."
Layfield's rebounding prowess has been a recent development. She averaged less than four rebounds per game in her first two seasons and grabbed 7.6 rebounds in her junior year, a relative low compared to this season.
"Last year she did it at a high level," Green said. "And this year she's been rebounding at an elite level."
Layfield has attributed the improvement to increased confidence.
"Just me having confidence, my team having confidence in me and just pushing myself to the best of my ability," Layfield said. "I just found my niche."
Layfield rebounds ferociously while also scoring 12.1 points per game, making her one of six players in Division I to average at least 10 points and 12.5 rebounds per game.

"Obviously anyone who can put up a double-double the entire season is phenomenal," Marquette head coach Carolyn Kieger said. "We'll throw different bodies at her, change it up a little bit and just make sure we're focused on the glass."
In case Layfield wasn't already dangerous enough, she'll have another advantage Friday against the Golden Eagles — playing in her home city. The Louisville native said she is expecting about 30 friends and family to be in attendance but remains focused on what happens on the hardwood, not the 22,000-plus seats in the KFC Yum! Center.
"It's not about me being in front of family," Layfield said. "It's exciting, but at the end of the day, I have a job to do."
Layfield's ability to seamlessly score double-doubles could be especially problematic for the Golden Eagles, who have not had a rebounding advantage since their Feb. 25 win over St. John's. The Flyers' plus-6.1 rebounding margin dwarfs Marquette's BIG EAST-leading plus-3.2 rebounding margin.
"We have to keep them off the boards," Marquette junior Amani Wilborn said.
Even if Marquette shuts down Layfield on the boards, she is among four Flyers to average at least 12 points per game this season.
"Their entire team is really versatile," Kieger said. "So they have a lot of good players we need to key in on."
One of the bodies Marquette will be throwing at Layfield will likely be Erika Davenport, another 5-foot-11 rebounding-heavy starter. Davenport scored 22 points and nine rebounds in last year's first round NCAA Tournament loss to Quinnipiac, a game she has reflected on entering Friday's contest.
"Just never take anyone lightly, to play your hardest at any stage because you never know when it's going to be over," Davenport said. "You have to win to survive."
And that survival could come down to stopping the best rebounding guard in the country from doing what she's done all year.
"We need her to do that at an elite level in order for us to win games," Green said. "And we're going to need her to do that (Friday) if we're going to win this game."