FLOOR SLAPS: Blue Demons out-muscle Golden Eagles in upset
Hang on for a minute...we're trying to find some more stories you might like.
With just under two minutes remaining in Marquette's contest against DePaul Saturday afternoon, Blue Demons guard Eli Cain attempted and missed a 3-point attempt. However, as so often was the case, Marquette failed to corral the basketball, and guard Max Strus grabbed the offensive rebound, went up for the layup and was fouled by Sacar Anim.
It was Strus's fourth offensive rebound of the day and most importantly, a reoccurring theme for the Golden Eagles. The Golden Eagles (16-14, 7-9 BIG EAST) were out-rebounded, 49-30, on the way to a 70-62 season-defining loss to DePaul (11-17, 4-12 BIG EAST).
OFFENSIVE GLASS WOES
The Blue Demons out-hustled and out-rebounded Marquette on the glass, 19-6.
No matter which Marquette player played in the post, a Blue Demon would find a way to grab the offensive rebound, leading to 15 second-chance points.
While it was frustrating for head coach Steve Wojciechowski and his big men, Strus was not surprised.
"We always rebound (the basketball)," Strus said. "That's our main focus — to defend and rebound. Today, we did a great job at it and it helped us win the game."
The one Marquette big man not in the mix was center Harry Froling, who did not play for the second consecutive game. "I think the other guys were playing better," said Wojo.
SLOPPY TURNOVERS LEADS TO SLOPPY PLAY
Turnovers led to Marquette's poor play and lack of scoring Saturday. The Golden Eagles committed 15 turnovers, including four before the first media timeout. Senior guard Andrew Rowsey and freshman center Theo John led the team with three each.
"We were a very, very, very immature basketball team today," Wojo said. "DePaul was a very mature basketball team today. And that's not surprising because that's who we've been. Our immaturity has led to crazy amounts of inconsistency."
While DePaul committed more turnovers than Marquette, the Golden Eagles could not capitalize as they only scored 11 points off DePaul's 17 turnovers and went to the free throw line just nine times.
Markus Howard returned from injury for the first time since leaving Creighton with a hip injury. While he put up 12 points, the sophomore sharpshooter was 2 of 7 from beyond the arc and committed two turnovers.
DROUGHT KILLS ANY AND ALL MOMENTUM
Midway through the second half, Marquette went on a six-minute scoring drought, stopping all offensive flow for the Golden Eagles. From the 13:18 to 7:15 marks in the second half, the Golden Eagles took just four shots and turned the ball over four times.
"In basketball, you are going to have droughts," Wojo said. "But when you identify one or two things that, if it had to be boiled down to its simplest parts, then if you do, you have a chance to win. We did not do that tonight."
Sophomore guard Sam Hauser said scoring not also affected the team's defensive output.
"The ball just wasn't going in and it really affected our defense," Hauser said. "We kind of let up on them on defense a little bit and it gave them a lot of confidence."
Marquette, a team that put up 90 points on the road against Creighton last Saturday and 85 at home against St. John's, could only muster 62 points, including 29 in the second half. Entering halftime, Marquette held a 33-28 lead. The second half was a different story.
DePaul head coach Dave Leitao told his team four words that carried the Blue Demons in the second half.
"The first thing I told our guys was 'And the good news is….' The good news was we were playing really well (at halftime) and we were in striking distance," Leitao said. "If we cleaned up some of the things that we talked about, after that point and we would give ourselves a better chance. I thought we did that and we regained the lead and held onto it from there."
The Golden Eagles could certainly use some good news after the loss.
QUOTE OF THE DAY
"We were a very, very, very immature basketball team today," Wojo said. "DePaul was a very mature basketball team today. And that's not surprising because that's who we've been. Our immaturity has led to crazy amounts of inconsistency." -Wojo on Marquette's performance vs. DePaul.
STAT OF THE DAY
49 rebounds was the most Marquette has given up all season. The previous high was 44 from Northern Illinois back in December.
UP NEXT
Marquette will have a short turnaround as they will square off against Georgetown Monday night. Tipoff is at 6:00 p.m. and will be on Fox Sports 1.

About the Photographer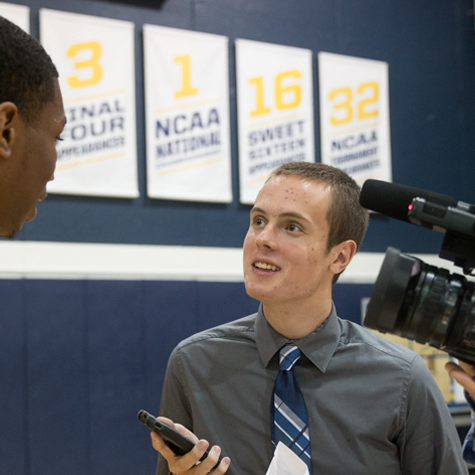 John Steppe, Executive Sports Editor
John Steppe is the executive sports editor for the Marquette Wire. He is a junior majoring in journalism and double-minoring in digital media and Spanish....