Defensive adjustment helps Marquette shock Creighton despite Howard injury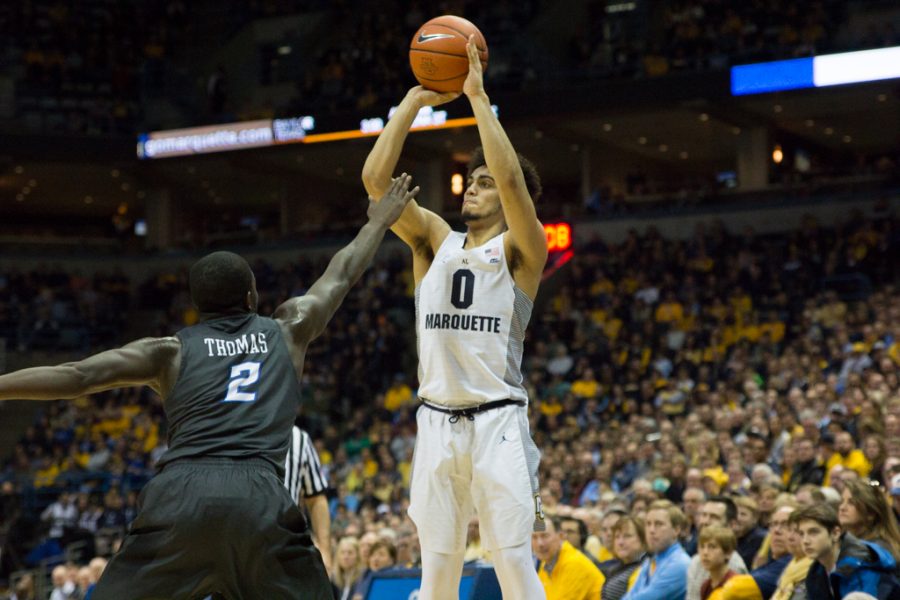 Late in the first half against Creighton Saturday night, it looked like Marquette's season was over. Sophomore guard Markus Howard had to be carried off the floor with a right hip injury and the Golden Eagles' offense was on life support, missing five of its final seven field goals of the first half.
Then head coach Steve Wojciechowski gambled with a zone defense in the second half, a tactic Marquette has not successfully deployed for much of the season. That halftime adjustment helped Marquette overcome a 16-point deficit to upset the Creighton Bluejays, 90-86, at the CenturyLink Center in Omaha, Nebraska.
After allowing 53 points in the first half, Marquette curbed Creighton's offense to just 33 second-half points. That included a drop in points per possession from an astronomical 1.514 in the first half to a pedestrian 0.943 in the second half.
The Golden Eagles (15-11, 6-8 in BIG EAST) experienced an offensive upswing in the second half, going from scoring 1.171 points per possession in the first half to 1.441 points in the second half despite not having Howard available.
Even with the switch to a zone defense, the win was hardly certain for most of the second half. There were seven lead changes in the second half and Marquette never expanded its lead in the half beyond four points.
Creighton junior guard Khryi Thomas tied the game at 86-86 with 1:28 remaining. However, the Bluejays came away empty on their next three possessions.
Three different Marquette players had double-digit point totals in the second half alone. That included redshirt sophomore Sacar Anim, who scored 26 points Saturday to obliterate his previous career-high, which was just 15.
Marquette also had a strong start, opening the game with a 19-12 lead. However, porous defense and Howard's injury allowed Creighton (19-8, 8-6 in BIG EAST) to establish a 16-point lead in the final minutes of the first half. Creighton made 11 of 12 shots in a 13-minute stretch of the half.
Howard's injury came at the 5:02 mark of the first half. As the star sophomore went up for a layup, Creighton forward Toby Hegner crashed into him midair. Howard took a hard hit to the ground and could not get up. Athletic trainer Brandon Yoder and team doctor Darin Maccoux carried him to the locker room.
With the victory, Marquette has its fourth road win of the season and second road win against a team in the top 25 of RPI, a metric the NCAA uses to rank teams that accounts for strength of schedule. Marquette still has plenty of work to do before being in NCAA Tournament contention. Two of Marquette's next three games are on the road and will possibly be played without the team's leading scorer.
Howard has accounted for 34 percent of Marquette's shots prior to Saturday's upset and played at least 30 minutes in all but two BIG EAST contests. He has also never missed back-to-back games in his career and is one of four active players to have played more than 50 games in a Marquette uniform.
The next test will be Wednesday against St. John's. It will be Marquette's first home game in over two weeks. St. John's guard Shamorie Ponds scored 44 points in the first matchup against Marquette to give the Red Storm a convincing 86-78 victory.