BIG EAST Notes: Creighton on top of conference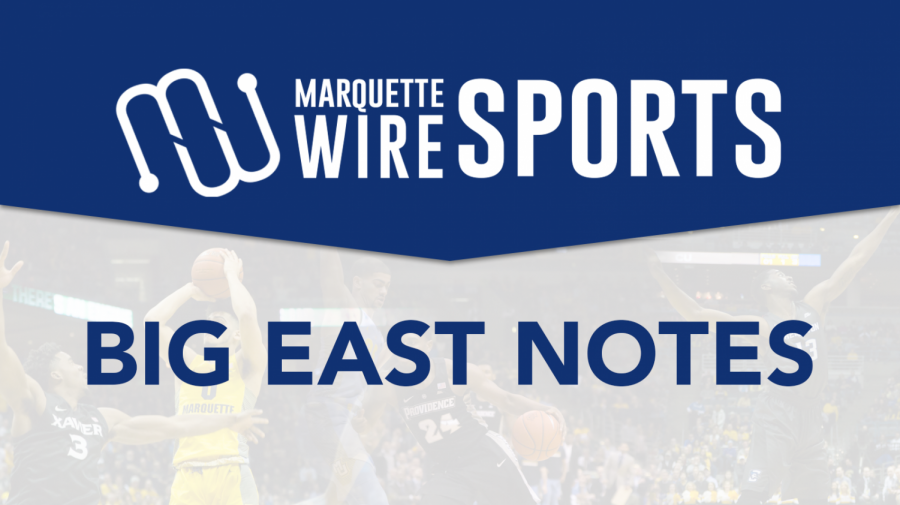 Every two weeks during conference play, the head coaches of all 10 BIG EAST schools have a teleconference with media members. Here are some notes from that conference:
CREIGHTON BLUE JAYS (14-3, 4-1 BIG EAST)
The Bluejays entered BIG EAST play with expectations of finishing in the middle of the pack, yet find themselves in first place through the first two weeks of conference play.
Their most recent win was against the Butler Bulldogs, which Creighton outscored 49-32 in the opening half.
"We probably played one of our best halves of basketball in the first half," head coach Greg McDermott said."We knew Butler was going to quit, and they came back and had a nice run, but fortunately, we had enough of a cushion that we were able to hang on."
Senior guard Marcus Foster has fueled the team's early BIG EAST success, averaging 19 points per game on 50.4 percent field goal shooting and 43.2 percent shooting from long distance.
Creighton's top spot in the conference is hardly secure. Three of the team's next four games are on the road and two of the next three games are against ranked opponents. McDermott said the matchup at No. 10 Xavier should be particularly challenging.
"We know we are going into a snake pit and that they'll be ready to go," McDermott said. "Chris (Mack) has an outstanding team once again."
SETON HALL PIRATES (14-3, 3-1 BIG EAST) 
Playing consecutive BIG EAST road games is never easy. Seton Hall found that out the hard way Tuesday night, dropping an 84-64 decision to the Marquette Golden Eagles.
"We battled really well for a good 30 minutes and then Marquette had a great run," Seton Hall head coach Kevin Willard said.
Besides that hiccup, the Pirates have fared well. A home win over Creighton and a victory against Butler at Hinkle Fieldhouse have been the highlights of Seton Hall's recent schedule.
While most of the attention goes to star center Angel Delgado, senior wing Desi Rodriguez has quietly been one of the Pirates' most efficient players. He's scored at least 10 points in all but one game this year. Rodriguez also played 39 minutes in each of Seton Hall's three wins.
However, it's Rodriguez's team-first mentality that most impressed Willard. "I think he's become a more unselfish player," Willard said. "He really has done a much better job this year of getting guys involved."
VILLANOVA WILDCATS (15-1, 3-1 BIG EAST)
Last night's matchup between No. 1 Villanova and No. 10 Xavier was expected to be a game full of drama. Instead, Villanova destroyed the Musketeers 89-65 and confirmed that the road to a BIG EAST championship still runs through Radnor, Pennsylvania.
To an outside observer, it would appear that the Wildcats lost a step or two defensively in the games prior to Xavier. In Villanova's first three conference games, its opponent scored at least 85 points, although that didn't fluster Villanova head coach Jay Wright.
"We weren't overreacting to our defensive struggles because I really do believe that if you look at teams in this league, they're so explosive," Wright said.
The Wildcats have an opportunity to get back on top of the BIG EAST coming up; their next two games are at St. John's and Georgetown, both of which have sub-.500 records in conference play.
MARQUETTE GOLDEN EAGLES (12-5, 3-2 BIG EAST)
The Golden Eagles are coming of their biggest win of the season, routing No. 13 Seton Hall 84-64 Tuesday night.
"We just went out there and played hard," freshman Greg Elliott said. "We knew they was (sic) a real tough team and we knew we had to bring our all, bring our A-game, to beat that team."
Head coach Steve Wojciechowski has relied heavily on sharpshooting guards Markus Howard and Andrew Rowsey to mask the team's shortcomings in the paint and on defense.
"Both of those kids are terrific players," Wojo said. "It's not often that you have two guys that are capable of scoring 30 (points) on the same team."
Meanwhile Marquette has been out-rebounded in all but one BIG EAST contest. The Golden Eagles also rank 246th in effective field goal percentage allowed and 304th in 2-point defense.
Marquette will visit Butler Friday and host DePaul Monday before beginning its longest break of BIG EAST play.
XAVIER MUSKETEERS (15-3, 3-2 BIG EAST)
After starting the season with a lofty 15-1 record, the Musketeers have hit a rough patch, losing to Providence by nine points and No. 1 Villanova by 24.
"Obviously we didn't play very well against Nova and they had a lot to do with that," Mack said. "Having said that, we need to be better."
Xavier has benefited from not overly relying on any singular player. Per KenPom, a prominent college basketball analytics site, no player is used on more than 23.8 percent of the team's possessions. Mack views this as a trend across the BIG EAST.
"One of the greatest things about our league is we don't have a lot of one-trick pony teams. We have a lot of teams that have a combination of guys," Mack said.
Xavier will host Creighton and St. John's next week. Mack's squad has not lost at the Cintas Center in Cincinnati since last March, when Marquette upset the Musketeers 95-84.
PROVIDENCE FRIARS (11-6, 2-2 BIG EAST)
Marquette guard Markus Howard's 52-point eruption against Providence ensured that the Friars' next game against the Xavier Musketeers was almost a must-win.
Providence didn't disappoint, beating the then-No. 5 Musketeers 81-72. Five different Friars scored in double figures. Two of them, guards Kyron Cartwright and Alpha Diallo, also grabbed four steals.
The Friars struggled through injuries in non-conference play, preventing them from attaining their full potential earlier. After the Xavier win, head coach Ed Cooley said he's starting to see the Friars reach the heights he thought they could.
"We continue to improve on the offensive side of the ball," Cooley said. "Our identity is based around caring (for) and sharing the basketball."
BUTLER BULLDOGS (12-6, 2-3 BIG EAST)
A week ago, Butler made headlines for upsetting then-No. 3 Villanova 101-93.
The last three games have not been as kind to the Bulldogs and first-year head coach LaVall Jordan. Butler fell to No. 5 Xavier, No. 21 Seton Hall and No. 25 Creighton after its strong 2-0 start in conference play.
"Tough one for us, losing three in a row at Creighton, but it was a great environment," Jordan said. "They're a really good basketball team."
Senior Kelan Martin and sophomore Kamar Baldwin have led the Bulldogs, but Jordan is increasingly relying on sophomore Henry Baddley has a reliable bench option.
"He's improved immensely shooting the basketball, so he gives us another guy on the perimeter," Jordan said.
Butler hosts Marquette Friday before visiting Providence and DePaul next week. The Bulldogs have won the last five contests against Marquette at Hinkle Fieldhouse.
GEORGETOWN HOYAS (12-4, 2-3 BIG EAST)
Those that watched Patrick Ewing's Georgetown Hoyas battle Chris Mullin's St. John's Red Storm could be forgiven for thinking that the ghosts of basketball games past were still very much alive.
The game between the two rivals was close until the end, when Georgetown junior Jessie Govan drained a 3-pointer with 29 seconds left to put the Hoyas up by three. The Hoyas would hang on to win, 69-66.
"It was a great win and great being back home in Madison Square Garden," Ewing said.
Georgetown has exceeded most people's expectations in its first year under Ewing's leadership. Picked to finish ninth out of 10 BIG EAST teams, the Hoyas have a pair of road wins and nearly tripped up Butler in the conference opener.
DEPAUL BLUE DEMONS (8-8, 1-3 BIG EAST)
DePaul has dominated in post defense, ranking 55th in the country for 2-point defense and holding teams to 45.7 percent shooting from inside the arc. Per KenPom, the average 2-point defense allows 49.8 percent shooting.
However, the team's inability to guard the perimeter continues to hold back the perennial BIG EAST cellar dwellers.
"It's probably something that we haven't done as good of a job of while trying to protect that paint," DePaul head coach Dave Leitao said. "(Protecting the paint) has been our primary focus all season long … When you do that sometimes you're in a deeper help position, and that makes us a step or two slow to get out to shooters."
Leitao's only conference win of the first two weeks has been a 91-74 win against a depleted St. John's team.
The road doesn't get much easier for the Blue Demons. KenPom projects DePaul to lose seven of its next eight games. The only game Leitao is projected to win is Friday at home against Providence.
"A very good Providence team comes in here that has tremendous leadership," Leitao said. "It's going to take a tremendous effort with their leadership … to come away with a victory."
ST JOHN'S RED STORM (10-7, 0-5 BIG EAST)
To say that things haven't worked out the way St. John's has wanted them to this season would be a massive understatement.
The Red Storm, who had realistic hopes of going to their first NCAA Tournament since 2014-'15 as recently as a month ago, have lost their first five conference games.
Shooting guard Marcus LoVett, who was second on the team in scoring with 14.9 points per game, has been declared out for the season with an MCL injury.
"We have to get our team together and keep a positive mindset," head coach Chris Mullin said.
Without LoVett, St. John's will have to lean even more on sophomore point guard Shamorie Ponds, who already has a 29.8 percent usage rate, one of the highest marks in the BIG EAST.