No. 8 Xavier dissects Marquette defense in MU's sixth loss against ranked opponent
Hang on for a minute...we're trying to find some more stories you might like.
Entering Wednesday's BIG EAST contest against No. 8 Xavier, Marquette had to key in on Xavier leading scorer Trevon Bluiett, who has led the Musketeers in scoring 13 times this season, including averaging 20.3 points per game in his last three conference games.
However, it was just about everybody else who wreaked havoc on Marquette's defense, as the Musketeers manhandled Marquette 89-70 Wednesday night at the Cintas Center in Cincinnati.

Entering the game, sophomore guard Quentin Goodin was 3-for-26 shooting from 3-point range; however, he turned it around from the onset, as he hit three 3-pointers in the first half, including two in the first five minutes.
By the time the Musketeers' star finally scored his first field goal at the 3:34 mark in the first half, Marquette was already trailing by 17 points.
Bluiett eventually found holes in Marquette's defense, just like the rest of the Musketeers' rotation, to score his 2,000th career point in the second half. Five Xavier players ended the game in double figures.
At the same time, Marquette's "big three" that has consistently shot the Golden Eagles out of jams more closely resembled a "big one" against Xavier.
Senior guard Andrew Rowsey and sophomore wing Sam Hauser combined to score just five first half points on 1-of-7 shooting. Hauser entered play as one of the most efficient offensive weapons in the country, but he could not muster a field goal until the second half. Hauser and Rowsey finished with 11 combined points.
The lone player to shine for Marquette was Markus Howard. The sophomore standout finished with 33 points on 14-for-27 shooting and made 11 of the Golden Eagles' first 13 field goals. It was his third 30-point performance of BIG EAST play.
Howard's highly-productive statline comes after scoring just seven points in 20 minutes last Monday against DePaul. Head coach Steve Wojciechowski said Howard was battling an illness that day, and putting him in was a gametime decision.
While Howard had a productive night, one streak came to an end. Howard missed his first free throw all season, as he made 66 consecutive from the charity before that.
With all three Marquette post options — Matt Heldt, Theo John and Harry Froling — receiving two fouls in the first 15 minutes of the game, Xavier could take advantage down low. The Musketeers finished with a 46-36 advantage in the paint.
The Musketeers also made more free throws (12) than Marquette attempted (10).
Marquette's offense improved in the second half, but Xavier continued to score at will, expanding its lead to as much as 26.
Marquette cannot dwell on the blowout loss, hosting No. 1 Villanova Sunday for its seventh game against a ranked opponent. It will be the rematch of Marquette's court-storming 74-72 win over the top-ranked Wildcats last year at the BMO Harris Bradley Center.
KenPom, a prominent college basketball analytics site, gives the Wildcats a 78 percent chance of winning Sunday's contest. However, Villanova will be without guard Phil Booth, who suffered a bone fracture in his right hand Tuesday against Providence. Booth has averaged 11.6 points per game and accounted for 18.1 percent of the Wildcats' shots.

About the Writer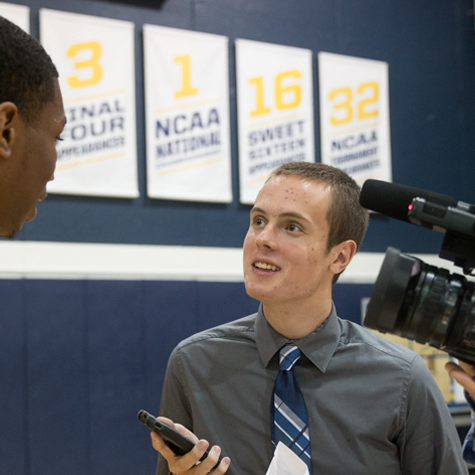 John Steppe, Executive Sports Editor
John Steppe is the executive sports editor for the Marquette Wire. He is a junior majoring in journalism and double-minoring in digital media and Spanish....