Local revitalization efforts from the Near West Side Partners initiative have seen major improvements over the last three years, according to data shared during the NWSP forum held Jan. 22.
Surveys showed that since 2015, there has been a four percent increase in home ownership, a 38 percent increase in positive perception of Near West Side neighborhoods and a 22 percent decrease in crime in the area. The Near West Side includes the neighborhoods of Avenues West, Cold Spring Park, Concordia, Martin Drive, Miller Valley, Merrill Park and Piggsville. According to the NWSP website, almost 30,000 people live in the Near West side, about a third of those being students.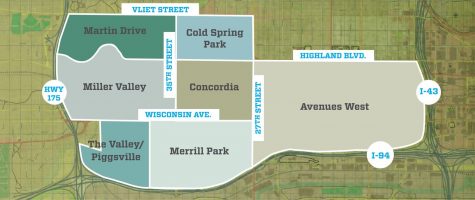 Several figures central to the NWSP mission participated in the forum, including Patrick Kennelly, director of the Marquette Center for Peacemaking; Elizabeth Killian, a sophomore in the College of Education and president of CAMPus Impact; Kelsey Otero, associate director of Social Innovation at the 707 Hub; Darren Wheelock, associate professor in the Department of Social and Cultural Sciences; and Dan Bergen, executive director of the Office of Community Engagement.
NWSP President Rana Altenburg, who is also vice president of Public Affairs at Marquette, said the nonprofit's many efforts to change the perception of Near West Side neighborhoods have so far had a positive impact on the area's economy. Eighteen new businesses joined these neighborhoods in the past three years, providing jobs, entertainment, social services and more. There are also 94 nonprofit organizations based in the Near West Side.
"We are the place where people come for care, services, education and worship. We are a destination neighborhood," Altenburg said. "We have worked hard to build upon the strengths of the neighborhood."
Kennelly said many of the university's institutions, including the Democracy Lab and the College of Business Administration, assisted in research to find out what Near West Side residents want to see happen.
Student volunteers carried out canvassing projects, going door-to-door in these neighborhoods to ask residents for their opinions. Kennelly said being able to talk to people has helped create several NWSP programs that address and solve issues in education, healthcare and the workplace.
"We're working more and more to engage our (Near West Side) population," Kennelly said. "I want to invite other people to get more involved. There's incredible opportunities on the Near West Side."
Killian is the president of student organization CAMPus Impact, a group of students who aim to spread awareness of what Near West Side neighborhoods have to offer. She spent time exploring the Near West Side during the canvassing project, where she talked to community members.
"It's been amazing just getting the opportunity to go into the neighborhood, talking to residents and making connections," Killian said during the panel. "It started with knocking on doors and just saying, 'We want to hear what you have to say.' Getting that experience to talk to people has been really fruitful for me."
Altenburg said she wants people to realize how much the Near West Side has improved and how it continues to grow.
"We want this to be a neighborhood of choice," Altenburg said. "We want people to choose to live here."