Marquette opens conference play with gritty overtime win vs. St. Johns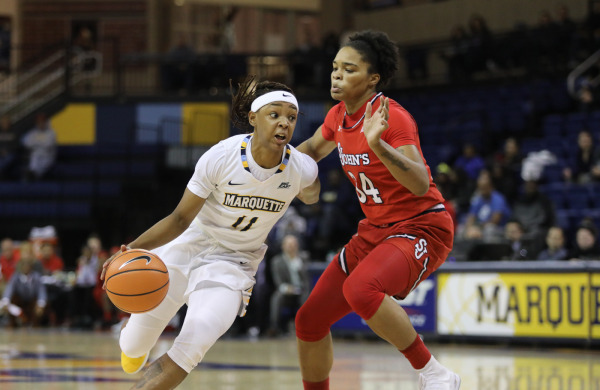 In a closely contested, back-and-forth affair, Marquette kicked off its BIG EAST slate with a 74-72 overtime win against St. John's.
Despite only leading for 12 seconds of the game, St. Johns clawed its way back and tied the game at 67 with just under two minutes remaining in regulation.
With both teams struggling to score in the final remaining minutes, the Golden Eagles had a chance to take the last shot with under eight seconds to go. Junior guard Amani Wilborn attacked the basket, but a key block from the 6-foot-3 Imani Littleton with one second remaining preserved the score and sent the game to overtime.
Junior guard Danielle King gave Marquette a perfect start in the overtime, scoring directly off the opening tip. 
A 3-pointer from guard Wilborn and two made free throws from junior Allazia Blockton would end up being enough for Marquette to prevail.
"We always just try and remain cool," Blockton said. "If we stick to our schemes, remain calm, and play defense, we're always going to have a good chance to win"
Taking care of the basketball was an issue for the Golden Eagles as they committed a season-high 27 turnovers despite averaging only 14 per game.
Head coach Carolyn Kieger was pleased that her team found a way to win despite their turnover struggles.
"Obviously we need to fix our turnovers" Kieger said. "I have not ever really seen that from this group, but it's nice to know we were able to pull off a win in the BIG EAST even without playing that well."
Blockton led the way for Marquette with 19 points. Redshirt freshman Lauren Van Kleunen recorded a double-double with 12 points and 11 rebounds. She was also the only Golden Eagle to not commit a turnover.
"Lauren was huge for us," said Kieger. "We've been waiting on a performance like that for around five games or so and she gave us 37 great minutes."
Junior Natisha Hiedeman scored 15 points, grabbed eight rebounds, and gave fans a highlight with an emphatic chasedown block in the fourth quarter.
Marquette found more positives on the glass, out-rebounding St. John's 40-24. The Golden Eagles also boasted a 12-5 advantage on the offensive glass while limiting St. John's to just four second chance points.
The Golden Eagles remain undefeated at home and are on an 11-game winning streak at the Al McGuire Center dating back to last year.
"It was a gritty win which feels good," Blockton said. "I think this will be a real confidence booster especially with a quick turnaround against Seton Hall coming up".
Marquette (7-5) returns to the Al McGuire Center Saturday to host the Seton Hall Pirates (8-5) at 6:30 p.m. central time.
Leave a Comment