PREVIEW: Xavier depth, 3-point shooting challenge Golden Eagles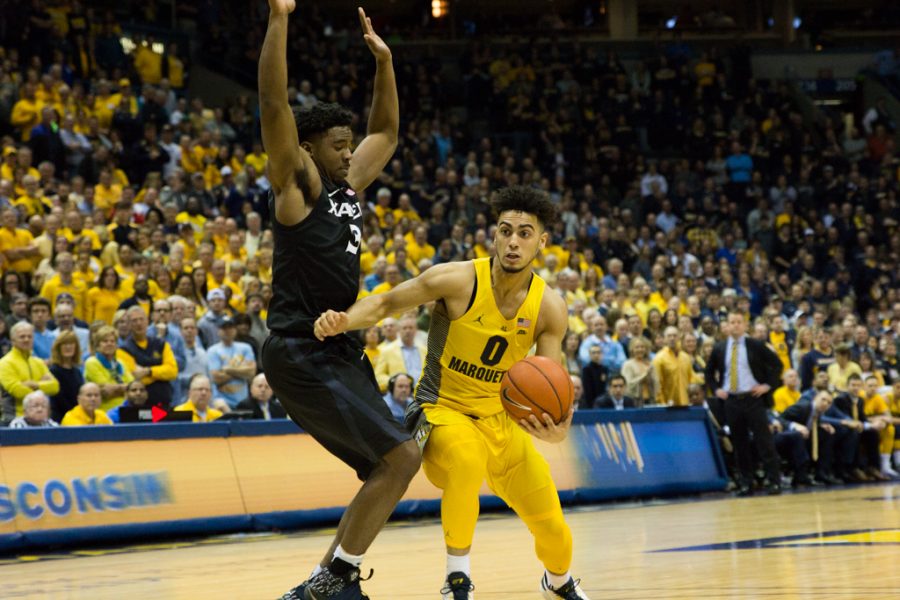 The last time Marquette hosted a top 10 team, fans stormed the court after the Golden Eagles' 74-72 upset over the No. 1 Villanova Wildcats last January.
There won't be nearly as many students at Marquette's conference opener against the No. 5/6 Xavier Musketeers, but a win would be nearly as impactful. Although Xavier is favored, head coach Chris Mack isn't taking Marquette lightly, especially after the Golden Eagles beat his Musketeers twice last year.
"We just have to go in there with a heightened sense of urgency, especially on the defensive end," Mack said in a team-released video.
BOMBS AWAY FROM DEEP
Neither team is shy about pulling up from 3-point land. Marquette's duo of Andrew Rowsey and Sam Hauser may see their shooting equals for the first time all year in Xavier's Trevon Bluiett and Kaiser Gates. All four are shooting at least 44.7 percent on treys this season. Sophomore Markus Howard of Marquette has made more threes than any of the four with 45, but is shooting only 39.1 percent on the year.
Relying on the deep ball is nothing new for the golden Eagles; almost half of the team's shots come from beyond the arc.
"They really stretch you," Mack said. "They have … three of the best shooters in the entire country. So much attention is paid to the two little guys (Rowsey and Markus Howard) because they do such a phenomenal job opening things up for their teammates. They're a threat anywhere on the floor."
Bluiett is the unquestioned star of the show on offense for Xavier; he's averaging 19.8 points per game, which ranks fourth in the BIG EAST. He can create his own looks or score off catch-and-shoot opportunities, forcing opposing defenses to constantly mark him all over the floor.
"(He) is, in my opinion, in the national player of the year race," Wojo said of Bluiett.
Xavier didn't have Bluiett for its 83-61 loss to Marquette in Milwaukee last year because of an ankle injury.
TESTING MARQUETTE'S DEFENSE
Xavier's offense would be a harrowing matchup for even the most proficient defense. KenPom, a prominent college basketball analytics website, ranks the Musketeers sixth nationally in offensive efficiency. Marquette's defense is almost the opposite, ranking last in the BIG EAST in defensive efficiency.
There are signs of life on the defensive end, though. Three of the Golden Eagles' four best defensive performances of the year in terms of opposing field goal percentage happened in the last three games.
"I think our team has gotten better," Wojo said. "I really like this group of guys. I think they kept a mindset of continuing to get better each day."
Marquette played two other teams with offenses that ranked among KenPom's top 10 most efficient. Neither of them ended well for the Golden Eagles: Purdue routed Marquette 86-71, and Wichita State bested them 80-66.
"We're going to have to do a lot of things well," Wojo said. "Obviously we're a team that can improve on the defensive end, and our defense will be tested at the highest level.
XAVIER BRINGS REINFORCEMENTS
Bluiett and fellow sharpshooter J.P. Macura draw the most attention, but the team's true strength lies in its depth.
Nine players average at least 15 minutes per game for Mack's squad, eight of who also score at least seven points per game.  This makes Xavier's offense one of the most evenly distributed in the conference.
"They have a trio of centers that really put pressure on you with their ability to score back to the basket," Wojo said.
Kerem Kanter, Tyrique Jones and Sean O'Mara have all seen time down low for Xavier and offer the Musketeers adaptability. Kerem, a graduate student transfer from University of Wisconsin-Green Bay and the brother of New York Knicks center Enes Kanter, is a stretch five that has flashed more shooting ability than one might expect to see in a 6-foot-10 player. Jones and O'Mara are more conventional bigs that make their home in the post.
Sophomore Quentin Goodin runs the show in the backcourt as a point guard. Goodin leads the BIG EAST with just over six assists per game.
Overall, Wojo doesn't see many weak points in Xavier. "There's a great balance," Wojo said. "Obviously, I think they're an elite shooting team, they're terrific in transition, they run really good half court stuff and they're great at offensive rebounding."
The game begins at 7:30 p.m. CT and will be aired on Fox Sports 1.