This feature story is a continuation of the "One Finger Salute" series.
One man has been a constant through nearly 50 years of the Marquette-Wisconsin rivalry.
Marquette legend Bo Ellis stepped foot onto campus in 1974, the same year the Warriors appeared in their first National Championship game. By the time he graduated in 1977, they won the title.
But Ellis has another bragging right close to his heart.
"In my four years, I never lost once to Wisconsin," Ellis said. "It was a much different story as a coach, but even as a player, they always played us tight, no matter how they were doing that particular season."
Ellis was also an assistant coach at Marquette for 12 seasons under four different head coaches– Bob Dukiet, Kevin O'Neill, Mike Deane and Tom Crean. To this day, Ellis makes frequent appearances at games and other program-related events.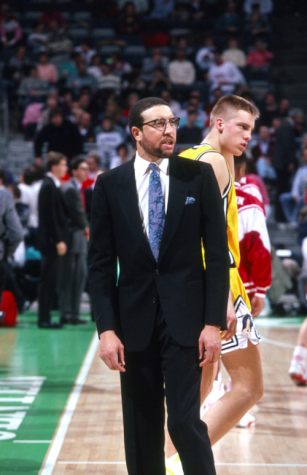 Of all the rivalry games that occurred during Ellis's Marquette tenure, his second Marquette-Wisconsin battle still stands out.
"It was very intense," Ellis said. "Every game we played against Wisconsin were always filled with tension. Coach McGuire was getting after us a little bit, but you know, it was no different than any other game in my four years at Marquette. The arena was going crazy, it was packed with Wisconsin people also, and it was an unbelievable atmosphere and almost unexplainable."
While the Warriors' comeback and subsequent game-winning shot from Maurice Lucas was memorable, Al McGuire climbing up onto the scorer's table was even more distinctive.
"I remember seeing (the photo) the next day in the paper," Ellis said. "No doubt about it, that was the talk of the city and campus. Right to date, almost 45 years later, the talk of Wisconsin-Marquette basketball, they have pictures of it everywhere."
That wasn't the only time Ellis witnessed McGuire's eccentricity.
"Actually, in my four years at Marquette, I saw him do that twice," Ellis said. "He did it against Wisconsin, and he did it when we beat Notre Dame at Notre Dame in 1976. He jumped up on the table that same way and they threw about 200 rolls of toilet paper at him after the game. Those are two of my vivid memories of coach doing that."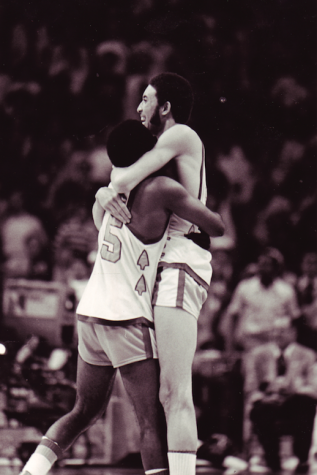 Ellis views that time period as the most intense part of the rivalry.
"No matter what the media had predicted Wisconsin to finish in the Big Ten, they would play us like they were the conference leaders," Ellis said. "I don't think it will ever get to that point again the way it was in the '70's."
After his college days, Ellis played with the Denver Nuggets in the NBA, where he was teammates with former Wisconsin player Kim Hughes, whose father Glen raised his middle finger toward McGuire when Marquette beat the Badgers. They were teammates for three seasons from 1977 to 1980.
"Whenever we see each other, we would always still talk about that photo." Ellis said. "We're still very close today. Because we were teammates in the NBA, we became great friends."
Through his time as assistant coach, Ellis beat Wisconsin just four times, a far cry from when he played them as a student-athlete.
"When I was a player, we expected to beat them," Ellis said. "When I was a coach, they were beating up on us pretty good, and I'd say as a coach, it was more rewarding. They had arrived by the time I got into coaching.
"As the years went on, Wisconsin had it pretty good. Steve Yoder, Stan Van Gundy. They were able to take the program to another level. Then, when they went into Chicago and got Mike Finley, Rashard Griffin, those kids from down-state Illinois, so it was a totally different scenario. It was almost the opposite of how it was when I was in school."
Regardless of the coach, Ellis remembers former Marquette presidents Father Wild and Father Raynor saying coaches were expected to win two games: Wisconsin and Notre Dame.
"They took it seriously. They knew the magnitude of that game, and they would put a lot of pressure on themselves, but for each of those coaches, it was huge."