Study shows Milwaukee concert tickets higher than many cities
Ticket prices for concerts in Milwaukee are likely to be higher than in other cities, ranking 21 out of 47 cities in the U.S., according to a study by Wanderu, a price aggregator.
However, Milwaukee residents such as Sarah Smith-Pancheri and Marquette students, tended to see ticket prices for concerts as differing.
Smith-Pancheri, vice president of sales and marketing for Summerfest, said tickets for the festival are split into separate tickets, such as show-by-show tickets, general festival tickets and parking tickets. The staff generally tries to keep prices low.
Summerfest is a non-profit organization, and Smith-Pancheri said it is important to the staff when factoring in ticket prices that there is an option for a reduced price. The sponsors provide ways for festival-goers to get in for free or a reduced rate, and the money Summerfest raises through a private sector helps keep the ticket prices low.
"Summerfest is built on the legacy of making an accessible event for the entire community, in Milwaukee and beyond, so accessibility is our first priority," she said.
"We're working with that budget of trying to make sure we can get the best entertainment possible for the lowest possible price," Smith-Pancheri said.
The Summerfest entertainment group works with artists to figure out ticket pricing, Smith-Pancheri said.
She said it's an extraordinary value. "It was a $20 ticket in 2017 to walk in and see bands like Ludacris, Steve Aoki and the Band Perry. Bands that could easily sell a hard ticket." A hard ticket is a ticket that is marketed for the band, not a general event or fest, and is sold in advance.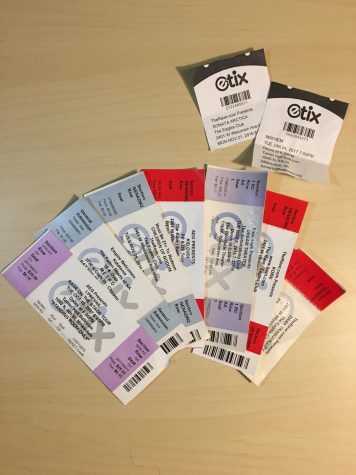 Photo by Rachel Kubik
Smith-Pancheri said employees of Summerfest know their festival is a good value.
"If you think about some of the other festivals that take place throughout the country that many people know, including those like Coachella, Bonaroo or Lollapalooza, Summerfest is a great value when compared with festivals like that."
Hayden Hochevar, daytime supervisor for the BMO Harris Bradley Center, processes reports, group seating and accessible seating for the venue. He said ticket pricing is completely up to the concert tour using the center.
If the BMO staff thinks the tour set the ticket prices too high, the staff can suggest to the tour that they lower their prices, he said.
"We don't have a whole lot of input on that," he said.
Hochevar said people from the BMO's office compares ticket prices in other cities to Milwaukee ticket prices. He said he thinks that typically, Milwaukee tickets are a little lower than other cities.
"We typically draw from bigger concerts just because of the size of our stadium," Hochevar said. He described the types of concerts the center hosts as headliners.
"The Rave has smaller shows, sometimes they have some pretty big names. But with us, we have Katy Perry and Lorde coming, and we have had Guns N' Roses," he said.
The BMO is quick in setting their ticket prices, Hochevar said.
"(The building has) been here for 30 years, so it's an icon to the Milwaukee area," he said.
Anne Marie Hogan, a senior in the College of Health Sciences, saw Hunter Hayes at the BMO Bradley Harris Center. She said tickets were about $20 or $30 each and that was not expensive for her.
However, Hogan said that tickets can be cheaper outside of Chicago, for example, at the Hollywood Casino Amphitheatre in Tinley Park, Illinois. She said it depends on who she is seeing, but she would not pay more than $75 to see an artist perform.
Andrew Sharples, a sophomore in the College of Communication, went to Riverside Theater to see Postmodern Jukebox. He said tickets were about $35 each. His seat was a front row seat on the second level.
Sharples said the ticket prices were pretty average and it was not out of his price range.
"Seats below us, they were closer to the stage, I think they were around $75," Sharples said. "To me that's a little expensive."
Katie Ferro, a sophomore in the College of Education, agreed that Milwaukee concerts are generally average-priced. She went to the Rave to see Macklemore and the BMO Harris Bradley Center to see The Lumineers.
Ferro said The Lumineers tickets were about $30 or $45, and Macklemore was around $50. "It's more about price and artist, location doesn't really matter," Ferro said. "I was going to go see Ed Sheeran, because I love him, but the tickets were like $98 for nosebleeds, and I was not going to pay that."
Ferro said discounted tickets for college students would be an ideal fix.
Monica Barany, a sophomore in the College of Health Sciences, has seen The Chainsmokers, Gnash, Macklemore and Vinyl Theater in Milwaukee. With the help of free tickets from friends for three out of those four concerts, she only paid for the Macklemore concert.
"I'm not a huge concert person, but I was willing to pay for Macklemore because I love him," Barany said.
She said she would see Macklemore again, up to a price of $65.
She paid around $50 for her tickets. "For The Rave, it's on the higher end of average, so maybe a little bit expensive, but not really anything crazy," Barany said.
Leave a Comment