Emerging cross-country star embraces nordic skiing, mission trips
Hang on for a minute...we're trying to find some more stories you might like.
Like many successful Division I runners, sophomore Daniel Pederson won multiple state championships in high school. Unlike most of his peers, one of those championships had nothing to do with running.
Nordic skiing, commonly known as cross-country skiing, is a popular activity during the frigid winters in Pederson's hometown of Spooner, Wisconsin, a town of less than 3,000 people in the northwest corner of the state. While attending Spooner high school, he became the 2015 Kortelopet Skate Nordic Skiing champion.

"My older sister got me into it," Pederson said. "It's definitely a really fun sport and it's really big in northern Wisconsin."
Skiing is one of Pederson's several interests off the track, although he's done a fine job with running as well. After finishing in the top three in his first three races as a freshman, Pederson elevated his performances and mileage to another level this season, finishing eighth overall at the BIG EAST championships. It was the best individual finish at the event in program history.
"I have been very impressed with his growth," head coach Mike Nelson said. "He is a great example in our sport of how hard work pays off."
"What I like most about it is the combination of fitness and technique that you need," Pederson said. "I have always had pretty good fitness, the challenge for me was getting good form."
In addition to running and cross-country skiing, Pederson has a passion for service.  This past summer, he got involved in "Totus Tuus," a Catholic youth program run by the Diocese of Superior, Wisconsin. It's name is a Latin phrase that roughly translates to "totally thine." 
After participating in the program when he was younger, Pederson decided to become a part of the team as one of the teachers. "The program is like a Bible vacation school," Pederson said. "It is about of week of activities with a focus on Catholic teachings."
Pederson traveled to a different parish in northern Wisconsin every week with other college students, performing mission work and taking part in youth ministry at each stop.
"The parish would be our mission for the week," Pederson said. "To be someone that tries to set an example for these young kids is really cool."
Of all the impactful parts about the program, the one that Pederson remembered most was how kind the priests were toward him and his fellow volunteers. "The generosity they showed us was really amazing," Pederson said. "It's awesome to experience that mutual growth between us college students and the diocese, as a result of the program."
In addition to his local mission work, Pederson, a fluent Spanish speaker, spent two years in Honduras with his family helping those in need. The biomedical engineering major enjoyed his time abroad and sees himself possibly returning in the future.
"Living in Honduras for two years gave me a real love for Central American culture," Pederson said. "I could definitely see myself returning there in the future."
All that volunteer work had a noticeable effect on his personality, said Mike Nelson, his head coach.
"One thing I've seen from (Pederson) is that he has become extremely comfortable in his own skin," Nelson said. "He gets along with everyone, and everyone has embraced who he has become."
Nelson summarized Pederson as someone who values both individual achievement and commitment to helping those around him.
"I see Daniel as someone who lives his life with two major things in mind," Nelson said. "He's someone that chases what he wants while striving to serve others as well."

About the Writer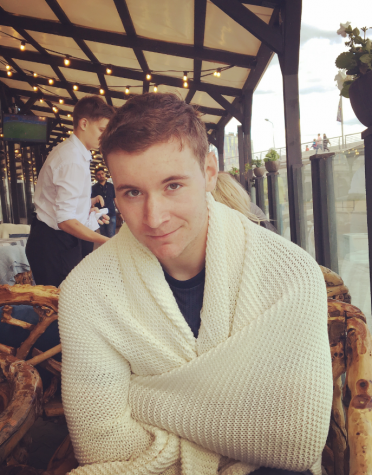 Chris Reisner, Sports Producer
Chris Reisner is a junior at Marquette from Brookfield, WI. As sports producer he puts together a weekly television show, creates print and video content...