Student-led coffee nonprofit still brews passion after five years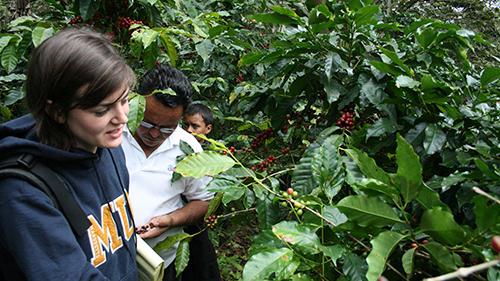 A student-led nonprofit company selling coffee is still brewing up passion on campus five years after it began its mission to feed orphans in Central American.
Buena Vida, operating out of in the Kohler Center for Entrepreneurship in the 707 building, gives a meal to a child at Sociedad Amigos de los Niños, an orphanage in Honduras, for every bag of coffee sold. After being run by one student from 2010-'12, the company has eight employees for the fall 2015 semester and is looking to hire two more.
The company is a partner of Stone Creek Coffee Roasters, which delivers coffee throughout metro Milwaukee and to partners across the country.
"We're really focused on offering students an opportunity to learn hands-on but also being able to make an impact in the world around us," said Daniel Klingelhoets, the CEO of Buena Vida and a junior in the College of Business Administration.
The company was founded by Marquette alumna Kate Novotny in 2010 after she went to Honduras with Global Brigades, a student-run organization focused on improving global health and sustainable development. There she met with coffee farmers and worked at the Sociedad orphanage. Eric Resch, the owner of Stone Creek Coffee, was on the same trip.
"Her goal was to find a way to import the coffee to the United States, sell it as a fundraising mechanism and offer students that experiential learning opportunity," Klingelhoets said. "And then have the profits go back down to support this orphanage in Honduras."
Klingelhoets said Novotny worked for Buena Vida on her own for a year and half. Then two student interns joined the team in 2012. There are five interns this semester and Klingelhoets said next year it is looking to hire between five and eight students. The internships are unpaid but can be done for class credit.
"I was introduced to (Novotny) my second week of my freshman year," Klingelhoets said. "A week or so later she emailed me. I applied, I was selected and I started that May. Before my 19th birthday, I became the CEO of Buena Vida Coffee."
Kelsey Hau, a senior in the College of Communication, spent her first semester at Buena Vida as an intern doing programs and outreach. Her job was to talk with corporate partners and look into new channels the company could get into. She moved into a managerial role during her second semester with Buena Vida, serving as the operations and outreach coordinator.
"Definitely the biggest challenge is that we are students," Hau said. "It gets a little stressful toward the end. But getting to work with (Klingelhoets), who's so passionate about it and then all of the Marquette faculty and our investors and our board, they're so behind us and behind the cause, it was such an incredible experience."
Klingelhoets was a resident of Mashuda Hall when Hau's worked as a desk receptionist in the same building.
"(Klingelhoets) is so passionate about the company so he used to come (to Mashuda) and have these crazy stories about what they were doing," Hau said. "I looked into it and there are very few places that you're going to get the opportunity that you have at Buena Vida. We are six students that run the entire company."
Rose Littlefair, a junior in the College of Communication and Buena Vida's multimedia coordinator this semester, said the experience has been a whirlwind, but she learned a lot.
"I have learned just how talented everyone truly is," Littlefair said in an email. "At Buena Vida we have an amazing team of people that are all very skilled in their certain area. It really opens your eyes to just how amazing people really are."