HARRINGTON: Medicare-For-All support huge step forward for Democrats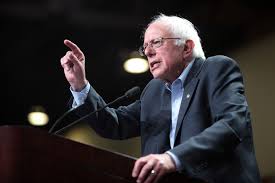 Last month, a large contingent of Democratic senators came out in support of Senator Bernie Sanders' Medicare-For-All bill. Among this list are 2020 presidential campaign hopefuls Sen. Kamala Harris, Sen. Corey Booker and Sen. Elizabeth Warren.
While the bill has low chances of becoming law in this Republican-controlled Congress, the idea that a bill this progressive is being supported by the Democratic Party is a colossal step forward for not only healthcare issues, but other progressive issues as well.
There is no question that the political left in this country is divided. The populist campaign of Bernie Sanders gave rise to a more vocal and active progressive movement, especially among youth voters. However, more traditional Democrats like Hillary Clinton and Barack Obama have been hit with some justified waves of scrutiny from this new progressive movement.
This divide between the more orthodox Democrats and the "far-left" led to animosity in a myriad of forms. However, as the activism and visibility of organizations like the Democratic Socialists of America becomes more prominent, the establishment Democrats are left with a choice: Do we continue to lose to the Republicans or do we appeal to people who are actively trying to make some positive change on our end of the political spectrum? The recent surge of support for Medicare-For-All seems to indicate the latter.
It is incredibly easy to cast off Senators Harris, Booker and Warren's support as pandering for the upcoming 2020 presidential race, and that argument holds water. But, the fact that these slightly progressive Democrats are considering the interests of more leftist groups is a great start. If any of these politicians were to end up in the Oval Office, the progressive movement will hold them accountable for promises like Medicare-For-All.
Contrast this vocal support for the bill with another well-known Democratic figure: House Minority Leader Nancy Pelosi. Pelosi has repeatedly stated her intentions to not support Medicare-For-All or single-payer healthcare plans, and instead is focusing her attention on saving the Affordable Care Act.
While the ACA is a better option than whatever bill the Republicans cobble together, these sentiments by Pelosi are the ideas that lost the Democrats the 2016 election. Pelosi is like the captain of a swiftly sinking ship who, instead of plugging the leak and fixing the issue, tries to steer toward land, inevitably sinking the ship faster.
A constant criticism the American "far-left" deals with is that their ideas are too radical for mainstream American politics. The DSA recently hit their highest number of official members since the end of World War II. These ideas are supported by a significant portion of the American population, and with the right support from both politicians and every day citizens, they will undoubtedly gain more traction across the country.
The Republican Party did not come apart at the seams when the Reagan-era allowed for the radicalization and evangelization of the GOP. If anything, moving the national political spectrum to the right in the 1980s gave Republicans more support. This is what the Democrats must do if they wish to survive as a modern political party: accommodate and support the so-called far left.
I am more than aware that there is a good deal of work to be done if the Democrats are to reform their broken party and forge ahead into the 2018 and 2020 elections. While Medicare-For-All has slim chances of becoming law before 2018, the fact that major establishment Democrats are listening to their more progressive allies is a great sign moving forward.
This wave should not be limited to healthcare either. Other progressive issues such as alleviated college debts, universal basic income and many others can gain support from established and respected politicians and hopefully one day become law. While the Democrats may be almost as divided as they were in 1968, there seems to be potential for a reformed, more progressive leftist party in the very near future.
Leave a Comment