Just like every other high school player in the basketball-mad state of Indiana, the only thing Buddy Jaffee ever dreamed of was to play Division I college basketball.
For one reason or another, he was initially passed by, but it didn't phase him. Instead, Jaffee kept trying and made his dream come true on Oct. 7, when Marquette announced it was offering the senior from Michigan City, Indiana a preferred walk-on spot for the 2018 season.
"Growing up in Indiana, basketball is such a big deal," Jaffee said. "I grew up around people who had that same passion, which made me love the game even more. When I got the call from Marquette saying that I had been offered a spot on team, it was as if a huge weight was lifted from my shoulders, I had finally accomplished my dream."
Jaffee's story is like so many who come from the Hoosier state. He grew up playing basketball at age three, competing against his older twin sisters, Elise and Claire. The sibling rivalry continued between the two, as both seniors wanted Buddy at their respective schools. Claire is at Butler and Elise studies advertising in the College of Communication at Marquette.
Wherever Buddy ended up, Elise knew her brother would be willing to do anything for a spot on the team.
"He's always been a really hard worker," Elise said. "He was always one of those kids where as soon as he'd get home from school, he'd be shooting hoops. It was always a dream (for him to play Division I) and for all the pieces of the puzzle to come together, it's surreal."
Jaffee would spend hours shooting at a gym or scrimmaging against his older sisters. Elise joked it was competitive until her brother grew, when Elise and Claire watched her brother shoot jumpers over them.
"Usually on the weekends, we'd always have family basketball games," Elise said. "When he started growing, Claire and I didn't really have a chance. It was still fun because my parents played … we always grew up playing basketball."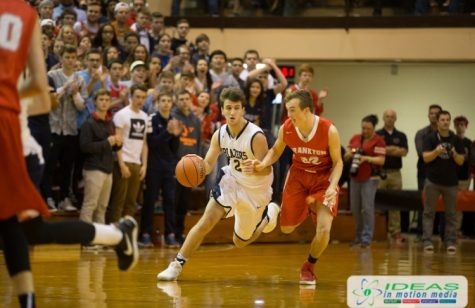 Jaffee made varsity his freshman year of high school at Marquette Catholic. Last season, the 6-foot-1 shooting guard helped lead the Blazers to the state semifinals, averaging 9.7 points per game including 17 points in the semifinals. Despite the late tournament run, Jaffee wasn't attracting much attention from Division I schools.
"Teams weren't showing as much interest as I'd hope they would," Jaffee said. "So we kind of had to take it upon ourselves to make that initial contact and reach out first."
Jaffee's dad reached out to Marquette athletic director Bill Scholl, who got in touch with associate head coach Stan Johnson.
Johnson watched Jaffee's film on a Wednesday and gave him a call back, offering the chance to come to an open gym in Milwaukee that Saturday.
"It all moved really fast," Jaffee said. "The rest of the week flew by and before I knew it, it was Saturday morning and it was time to workout with the guys."
Going up against the likes of freshmen Theo John, Jamal Cain and Ike Eke could have intimidated even the most experienced players, let alone Jaffee. However, as soon as he got into the flow of the game, Jaffee realized something: it was just like any other contest he'd played in.
"Once we started playing, I realized that I could play with these guys," Jaffee said. "I had nothing to be nervous about; I made some shots, played pretty well and I held my own on defense."
After a week of waiting, Johnson called with the good news.
"It was such an unreal moment for me and my family because there were times where we thought it might not happen," Jaffee said. "But thankfully, Marquette took a chance."
Jaffee verbally committed at Marquette Madness one week later and spoke to head coach Steve Wojciechowski and junior walk-on Cam Marotta since then.
"I want to get better every single day," Jaffee said. "The only thing I've ever wanted is to play at the Division I level. I am so excited just to even be a part of the team."