Student-run gardens populate campus greenspaces
Aidan Flanagan, now a senior in the College of Health Sciences, sought an answer to help the homeless by establishing a community garden on campus in Westowne Square.
Flanagan spent months speaking with different science professors trying to get his project off the ground before finally connecting with the Campus Sustainability Coordinator, Brent Ribble, who had a similar vision for the MU community.
"My initial goal was to create a way for the community to engage in a sustainability project and to have a tangible symbol of sustainability here on Marquette's campus," Ribble said. "As Aidan and I talked, however, I realized his idea for a community garden would be a way for both of us to achieve our goals."
Soon after, the two started to plan their garden. They applied to the Strategic Innovation Fund, a group on campus that provides grants for community members looking to start up entrepreneurial projects. Ribble and Flanagan were given a few hundred dollars to do a trial run, and planted the Westowne Mini Garden in front of the Weasler Auditorium.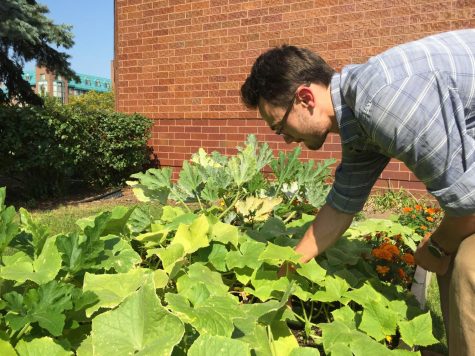 Although the mini garden is a much smaller scale than the two hoped for, it is not preventing them from achieving their goals. The garden is currently being used by environmental engineering professor Anthony Parolari to test the soil concentration and microbiology in different plants.
Additionally, Oct. 3, Westowne Square will be hosting a Farmer's Market and a Stuff the Truck charity food drive event during which Groundwork will be holding gardening classes at the Westowne Mini Garden. Groundwork is an environmental nonprofit group that teaches youth about urban gardening, among other things.
"This was always about more than Marquette growing a few plants. This is about community engagement," Ribble said.
The pair hopes to get the community more involved in the coming years by expanding the garden.
"Next year we hope to grow from two plots to five plots. Eventually we want to put as many plots as we can by where Wild Commons is, so that we can make a significant contribution to the homeless shelter and dining hall," Flanagan said.
Ribble and Flanagan aren't the only ones on campus seeking to help the community through urban gardening. Campus Kitchens is a national organization that seeks to relieve hunger by donating meals to homeless communities. The Marquette Campus Kitchens chapter has a few garden plots next to O'Donnell Hall. The two groups have been working together a little bit this year so far.
Anna Reistad, a junior in the College of Arts & Sciences, has been taking care of the garden plots for the summer. During the year, Campus Kitchens Marquette is a student volunteer driven effort that uses plants grown in the garden to make meals for the homeless in the Milwaukee area. Reistad was CKMU's intern this summer.
"We were worried we wouldn't be able to plant anything because of the construction, so we got started late in the season," Reistad said. "Luckily, the people who run the Westowne Square Garden were able to give us some plants because they had some overcrowding."
In the coming years, the Marquette community will continue to grow in its efforts to help the surrounding area and become more sustainable. Ribble is currently working on a plan to do just that. Until then, Flanagan reminds the community to keep pushing towards those goals.
"Everyone can give a little piece of what they have to help everyone else," Flanagan said.
Leave a Comment