Uncovering German heritage
Language club invites students of all backgrounds to discover Milwaukee's roots
When Anthony Vanderheyden, a fluent German-speaking senior in the College of Business Administration, lived in Germany for a year, he connected with people in ways that wouldn't be possible.
"I feel like the best way to learn the language is to surround yourself by it and keep making mistakes until you learn how to correctly express yourself," Vanderheyden said.
German Club tries to make this immersion possible by inviting students of all backgrounds to join a community of German speakers and culture enthusiasts alike.
While fluency is not a requirement in the club, having an open mind and positive, ready-to-learn attitude is the best way to prepare for club meetings.
German Club is only a year old, but is ready to make its mark on campus.
"I think (the club) is gonna take off," Jessica Brown, a freshman in the College of Arts & Sciences and secretary of German Club, said. "If we continue to go in this direction where we do some outings and to make it more interesting than sitting in a classroom I think it can become something really popular especially because Milwaukee does have a strong German heritage."
Brown has taken German classes for one year and becoming part of the club has only made her appreciate culture more.
German club has a sub group called German Discussion Group, which is lead by Vanderheyden. While regular club meetings are on Tuesdays at 7 p.m., the discussion group meets Wednesdays in Lalumiere Hall. The discussion group plays games, such as German Monopoly and Cards Against Humanity.
Anna Reistad, a sophomore in the College of Arts & Sciences and the President of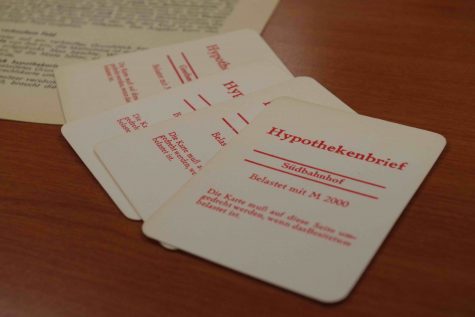 German club, has grandparents from Germany. One of her goals is to make speaking German with her family easier.
"We have a community of students who wouldn't normally meet connecting through German at Marquette," Reistad said. "I hope more students will join (the club) and learn more about it."
Stammtisch, an informal gathering where students can practice German and discuss German culture and other topics, is a feature of club meetings. Vanderheyden often plays modern German music during the group discussions to liven the atmosphere.
"With the Stammtisch, I think we all came together as a club," Brown said.
German Club also shows students a glimpse of what German heritage in Milwaukee is like.
"Sometimes we go to a couple bars downtown. They put out meat and cheese platters that are free for all the guests, and you can speak German with people from Milwaukee that know German or are learning," Vanderheyden said.
Valhalla is one German-Norwegian bar in Milwaukee the club has made excursions to.
"I know some of it (food) was provided through Usinger's Famous Sausage," Brown said. "I love Usinger's and it was really cool to practice my German while meeting cool people from around the area."
Leave a Comment