Guide for traveling from campus to Windy City
Good news: A favorite artist is finally coming to the Midwest. Bad news: They had the audacity to not stop and see their biggest fan in Milwaukee.
Good news: There's a show in Chicago that the fan can attend. Bad news: He or she doesn't know how in the world to get to a Chicago event and back in one piece.
Seems like a predicament, doesn't it?
A few of Marquette's students have been there, done that, and came out with a few tips and tricks when it comes to traveling to the Windy City for a show or event.
The first order of business, of course, is getting there. And Anne Ernst, a sophomore in the College of Nursing, said that taking the train from Milwaukee to Chicago is definitely the way to go.
"(The S train) is super convenient and the ride only takes an hour and a half," Ernst said. "The train station is super close to campus, so whether I want to walk, take the bus or Uber I can get there in a short amount of time."
Indeed, students can easily hop on the 12 bus near Gesu or Straz Tower and be at the Milwaukee Intermodal Station in about 10 to 15 minutes, or choose to walk and be there in about 15, as well.
However, buying a train ticket early is important.
"One specific tip I have for the train is to buy your ticket at least three days in advance, because if you buy it right before you go, you won't get the student discount," Ernst said. Amtrak offers students almost 15 percent off of rides, but pre-purchase and carrying of a student ID during travel is required.
On a different note, students with cars  can utilize the luxury and take the hour and a half to two hours to drive down. Courtney Tarnow, a sophomore in the College of Arts & Sciences, swears by the apps SpotHero and Waze to get her to the city by car.
"SpotHero is a discounted parking app, and it once got me $15 parking in Chicago, which was crazy," Tarnow said. Before using the app, she'd paid $50 for parking in the city.
"Waze helps guide you around super busy traffic spots in the city," Tarnow said.
No matter the app usage, those traveling to the city have to remember that not everything always goes as planned.
"Be absolutely sure to leave yourself enough time," said Pam Palines, a junior in the College of Business Administration. "A lot of people forget about traffic, with construction in particular always changing and messing with your plans."
Once a traveler gets to Union Station or the parking spot of his or her choice, the next step is to get around the city itself. The Chicago Transit Authority, specifically the L, is designed for just that.
Since getting the CTA student discount requires having a Student Ventra Card, the next best deal is purchasing a one-day pass for $10 that allows unlimited rides for 24 hours after buying it.
Uber and taxis are always an option in the city, too. Planning on spending a little extra on rides could turn out to be more efficient than spending time in Chicago trying to figure out the map of the L.
With a sure way of getting around the city in mind, now it's time to think about the plan before the show. Getting good food is a must while in Chicago, and having a little fun if time allows is definitely a perk as well.
Dinner or lunch places with meals that won't break the bank are XOCO, Chi Cafe and 5411 Empanadas, all of which are at most a 20 minute train ride from Millennium Park – both a central lakeshore spot and a popular venue for concerts. Millennium Park is a popular place for a picnic, too, if the weather is nice.
Traditional Chicago-style deep dish pizza is at the beck and call of any newcomer and residents alike. Which of them is in fact the best might never be determined, but with prices ranging from about $6-$10 per person for a hot dog combo or sharing a stuffed pizza, Chicagoans will keep on happily paying and debating for years to come.
Meals: check. Where to next? Walk down to Navy Pier, buy the perfect concert outfit along State Street at trendy, affordable stories like Forever 21 and H&M, or check out the literal hundreds of free things the city offers almost every weekend. Chances are that before that excited concert fan knows it, though, he or she will be off to settle in and watch the show.
After the main event, if one is not able to make the caffeine-induced drive home after the show, the last big task at hand is to find somewhere to spend the night.
To start, reach out to any friends that go to school in or near downtown Chicago, and ask if their place could be a crashpad for the night. A free night's stay is a free night's stay.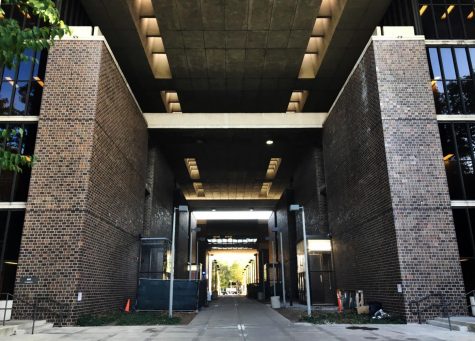 If there are no Chicagoans in one's contact list, utilize one of Chicago's well-kept downtown hostels. The HI Chicago is a safe and cheap place to lay a tired head for the night, and unlike most hotels, guests only have to be 18 to get a room. Being a hostel, there are many different options as to how many people share a room with and the price overall, so if city tourists look early enough they are almost guaranteed to find something that suits both their comfort level and wallet.
Above all, be safe and shrewd, and a trip to the Windy City will be a win. Take some time to do a little bit of research, planning and contacting, and what once felt like bad news can become some of the best news – and memories – one has ever had.
Leave a Comment