Sprecher's first career goal is deciding factor in win over Central Michigan
Hang on for a minute...we're trying to find some more stories you might like.
For over a week, freshman Kylie Sprecher was fixated on one task: scoring her first collegiate goal. The young forward did everything from watching tape to studying veteran forwards like Darian Powell or Carrie Madden while she was on the bench.
"I feel like I'm very close (to my first goal)," Sprecher told the Wire Aug. 24. "And it's one of those things where I think when I get my first one, hopefully that knocks down the wall and they all start coming."
In the 18th minute of Marquette's eventual 1-0 victory over Central Michigan Friday against Central Michigan, that goal quickly became a reality. With the ground wet, Sprecher knew that a hard-hit ball would be especially hard for Central Michigan goalkeeper Zoie Reed to control. She fired a ball to the left side off Reed's legs and into the net.
"It felt really good," Sprecher said. "I was all smiles and everyone was really excited for me."
Sprecher finished the night with four shots, three of which were on goal. The true freshman from Menomonee Falls, Wisconsin, also played in a career-high 80 minutes.
With defender Leah Celarek and forward Jamie Kutey sidelined with injuries, Sprecher was not the only one to have a full workload. Ryley Bugay, Maddy Henry, Emily Hess and Madison Dunker alo never left the pitch.
Marquette was dominant in the first half, owning an 8-3 advantage in shots and a 3-0 advantage in corner kicks. Sprecher had two shots on goal, with other targeted strikes coming from Mary Kate Simon and Carrie Madden. However, the second half was a much different story. Central Michigan outshot the Golden Eagles, 12-4.
"They gave us so much time in the back," Sprecher said. "We lost our touches a little bit and lost our passing as a team."
Even with the Chippewas' late surge, Marquette won its third consecutive shutout and Henry has now saved her last eight shots.
"For a shutout, I always give our team credit," Roeders explained. "Because that starts with the front line doing their part and then the midfield and obviously the backs."
Now that Sprecher accomplished her first career goal, there's another goal for the team in mind.
"We want to keep it going," Sprecher said. "Our goal is to hopefully keep going with the W's, keep winning and try to go undefeated the rest of the season."
Marquette will host Mercer on Sunday before going on the road to face Boston University and Rhode Island next weekend.

About the Writer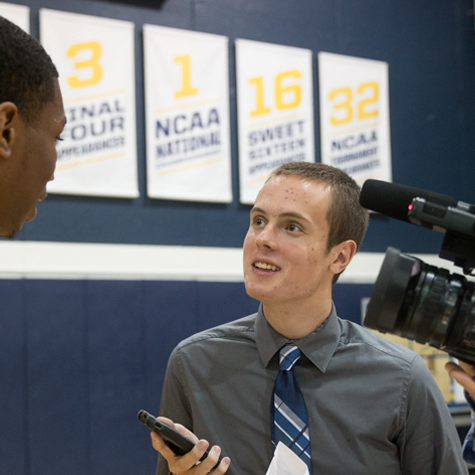 John Steppe, Executive Sports Editor
John Steppe is the executive sports editor for the Marquette Wire. He is a junior majoring in journalism and double-minoring in digital media and Spanish....