Travis Diener says hard goodbye to MU for 'perfect situation'
Hang on for a minute...we're trying to find some more stories you might like.
Travis Diener had a dream job at his old university with the basketball program he helped to restore to national prominence. Going back to professional basketball was tempting enough to make Diener think about it every offseason, but the 35-year-old knew  leaving Marquette required what he called "the exact perfect situation."
The perfect situation arrived in late June, when Meo Sacchetti, Diener's former coach in Italy's top basketball league, offered him the chance to return to Italy. As an added bonus, he'd get to team up with his best friend and cousin Drake Diener.
"It seemed like something that would come pretty close to a perfect situation," Diener said.
That's how Diener, a key contributor to Marquette's 2003 Final Four team, ended up going back to Italy. Once there, he'll resume his professional career as the point guard for Vanoli Cremona, a team based in the northern province of Lombardy.
This is not the first time Diener has seen Italy. He went there in 2010 after playing six years in the NBA. He then played four years with Dinamo Sassari on the Mediterranean island Sardinia before returning to Marquette in 2014 as men's basketball's director of player personnel.
The highest level of basketball competition Diener faced in those three years was other program staff in Marquette's noon ball games. Diener's three-year hiatus saved some mileage on his body, but it makes getting back into professional form even tougher.
"That's actually the biggest worry I have: How the body's going to react," Diener said. "The last six weeks I've really amped up trying to get in better shape and my body has responded pretty well, actually a lot better than I thought it would."
Re-acclimating to pro basketball has come with some adjustments, one of which is the realization that someone of Diener's age can't simply start playing basketball as soon as he steps on the court. Once he gets to the facility, Diener soaks in a warm tub of water to help relax his muscles. There's a longer stretching routine too, both before and after practice. Finally, there's Diener's least favorite part of any practice: Sitting in the ice bath for 20 minutes to prevent muscle swelling.
"At 35 years old, you can't treat your body like it's 20 anymore because it won't react in the way that you want it to," Diener said. "I've been very conscious of trying to get better that way and do the necessary things so when I am on the court, I feel as good as possible."
Although Italian basketball may not garner the same level of talent or fan attention as the NBA does, the pressure can still get pretty high. Diener described the atmosphere in Italy's top league, the LBA, as "collegiate." Games at that level averaged just shy of 4,000 fans last year, which is roughly the attendance of a West Coast Conference college basketball game.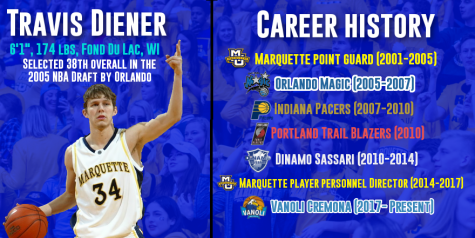 Before Diener can even get a taste of that league, he'll have to spend the season trying to get his old team back there. Vanoli Cremona was relegated to Serie A2, the second tier of Italian basketball, after finishing in last place in the top league last year. Unlike NBA teams that play 82 games, Italian squads play only 30 in the regular season, so Diener will have even less margin for off games than an NBA player would.
"You only play once a week so every game means a lot … You're also playing for so much because the team that takes last place goes down a league, just like soccer. Even if you're not having a good year, you're still playing for something."
There is an upside to only playing once per week: more family time. Only two of Diener's kids, daughters Karina and Mila, were alive during Diener's last stint in Italy. Now Diener will be going over with a third child in tow. He's a six month-old son named Luca who was born on the night Marquette upset No. 1-seeded Villanova.
Even Diener's two daughters were too young to remember anything about Italy. Going overseas means the kids get to see a different side of dad, a side that dad didn't know if he'd get to fully show them.
"I think means a lot to me. Basketball has obviously meant so much to me and given me so much in this life that I want to be able to share that with my kids."
Going to Italy means sharing other things with the family too, including a more deliberate life pace than in the states. "In America, everything is so fast and you just move on from one thing to the next. You don't really appreciate the daily grind of everything. Over there, you go to practices or work and they take a break in the middle of the day."
Diener said he will miss certain things about the states. He'll have to say goodbye to an English-speaking society and dust off his Italian, which he describes as "probably not very good right now." All of Diener's family outside of his wife and children will stay behind in Wisconsin too.
Ask Diener what he'll pine for the most while abroad, though, and there's no hesitation at all: the people at his alma mater. Diener said he never fully appreciated how much the people at Marquette did for him as a student, but working for athletics changed that."Everyone I've been in touch with these last three years has been so supportive and nice to me."
Nobody quite knows what's next, least of all Diener himself. Cremona only offered a one-year deal, and staying overseas long term "would not be the first or second choice," Diener said, although he's open to the idea. The first choice would be another homecoming to Milwaukee, this time for good.
"My life's in Milwaukee, you know? Four years as a student and then the last three (at Marquette), plus I'm from the state. If I'd call any place home, I'd call Milwaukee my home."