Summer update: Dwight Buycks, Henry Ellenson thrive in Orlando Pro Summer League
Ellenson, Buycks off to quick summer starts
Former Marquette men's basketball standouts Henry Ellenson and Dwight Buycks have quickly emerged as top performers in the NBA Orlando Pro Summer League after the first two games.
Buycks entered play Tuesday ranked third in scoring with 18 points per game but fell to 16.7 points per game after a relatively quiet 14-point performance against Indiana. He also showed off his quick hands, putting up seven steals against the Knicks in his first game.
Ellenson came out with an equally strong showing in Orlando as he looks to rebound from an underwhelming 2016-17 season. The Rice Lake, Wisconsin, native has scored at least 14 points and grabbed at least six rebounds in Detroit's three summer league games so far. His highest point total was in Detroit's opening day loss to the Oklahoma City Thunder, where he had 21 points.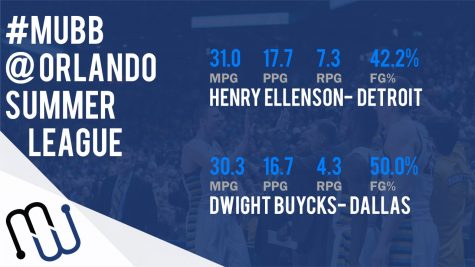 Lockett invited to suit up for Hawks in Vegas Summer League
Former Marquette graduate transfer Trent Lockett will be on a summer league roster for the third time in the last four years, joining the Atlanta Hawks per the Atlanta Journal-Constitution.
Other guards on the roster include Josh Magette, Bryce Cotton and Nate Britt. Magette signed a two-way contract with the Hawks while Cotton and Britt, like Lockett, will be competing for roster spots.
Lockett previously played for the Kings, Pacers and NBA D-League Select summer league squads. The 6-foot-5 guard spent last season playing in Spain.
The timing of Lockett's signing with Atlanta means he might not be available to join the Golden Eagles Alumni for the opening rounds of The Basketball Tournament July 15 and 16. Those are the days of the Vegas summer league's quarterfinals and semifinals. Unlike last year, his schedule will be clear of summer league obligations for the second weekend of the tournament should the Alumni team make it that far.
Women's lax gives Goslee defensive reins
Marquette women's lacrosse coach Meredith Black will have a bit more star power on her sidelines after bringing back former defender Elizabeth Goslee as the team's defensive coordinator.
Goslee graduated from Marquette with a lengthy list of accolades, leaving the program as the all-time leader in caused turnovers. The three-year starter also qualified for the U.S. Women's National Team in 2014.
There's plenty of work for Goslee to do once practice begins. Marquette finished last year with a 6-11 record and the second-most goals allowed in the BIG EAST. The only school to allow more goals was Butler, which was in its first year of intercollegiate competition.
Goslee does not have any prior college coaching experience. She spent a year serving with the Jesuit Volunteer Corps after graduation.
Quick shots
The Marquette men's and women's basketball teams now have their entire rosters on campus with the second academic summer session starting this week. Previously, Theo John and Jamal Cain were the only men's basketball freshmen on campus.
Steve Wojciechowski will host the Golden Eagles Alumni team at the Al McGuire Center for a mini-camp July 12-14. Golden Eagles Alumni general manager Dan Fitzgerald told the Wire that the team expects to implement a few set plays during their time in Milwaukee.
The next dead period for men's basketball recruiting begins Thursday, meaning Marquette cannot have any in-person contact with recruits until the first evaluation period begins July 12 at 5 p.m.

Correction: A previous version of this story incorrectly stated that Theo John and Ike Eke were on campus early instead of Theo John and Jamal Cain.

Leave a Comment