In the Office of Residence Life employees are often a first line of response for students who struggle with suicide.
Administrators and hall staff work together to serve residents and maintain confidentiality. Resident Assistants are often the first facilitators of this care.
"My role is to be there for the student," Straz Hall RA Mallory Mews said. "To be a resource for them, with whatever that resource may need to be. If that's to sit there with them and talk, then I'll sit there and talk. If it's to give them academic advice, I give them academic advice. For specific mental health thoughts, I need to be a resource and ask them what they would like to do moving forward."
All RAs are trained in the Question, Persuade, Refer method of suicide prevention. QPR training entails presentations and role playing.
"We have a summer training and we also have classes that we go through," Mews said. "A lot of that is getting us ready ask the one real tough question: You have to ask the student directly, 'Are you having suicidal thoughts?' We have certain things we need to do if the answer is yes, and if the answer is no, I still want them to know that I care enough to ask that question."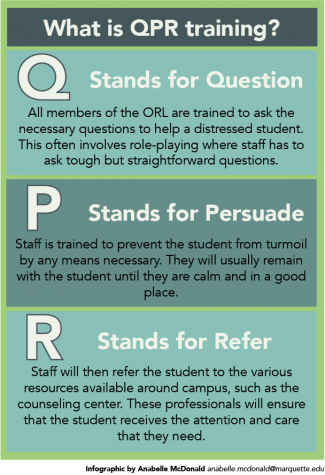 The RA is the start of a chain of staff that are taught to refer the at-risk student to professionals who can help.
"The RAs and hall directors are a pipeline of information for me," Tracy Gerth, assistant director of residence life education, said. "They refer to me, and I refer to CARE. I can tell our case manager to reach out to the student."
CARE is the acronym for the Campus Assessment Response and Education Team. It is a group of administrators, a counselor and a case manager that help to connect students with the resources they need if they are struggling with suicide ideation. Gerth is the representative for the Office of Residence Life on the CARE team.
"We maintain a high level of confidentiality," Gerth said. "In my role, I don't meet with students. All of this information flows towards the CARE team, and we treat the needs of students with the utmost respect."
In addition to the office's relationship with the CARE team, its relationship between the hall director and the parents of residents is also important.
"Parents know their students best," Jake Wakem, director of McCormick Hall, said. "To create that partnership proactively is key. I meet as many parents as I possibly can on opening day. I give out hundreds of business cards. I make sure that they have access to our front desk, to my office line, and I make sure they know that I am a go-to in that building."
The goal of the hall directors is always to refer residents to someone who can help, and to be a support to them in tough times.
"It's an honor to be able to be let into someone's life and be able to walk with them through that experience, and the confidentiality is key," Erin Kelly, director of Straz Tower, said.
Kelly said that that the university's Jesuit roots make the level of care that students receive unique.
"The care for the whole person that is the mission of this institution is so unique and so lived," Kelly said. "It's not just something that we talk about, it's something that we truly do on every level."
This story is part of the Marquette Wire's "Breaking the Silence" series to increase awareness and start dialogue about suicide in college. Read, watch and listen to more coverage here.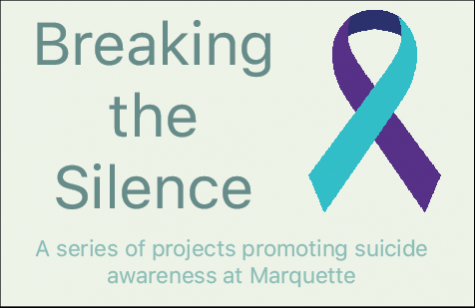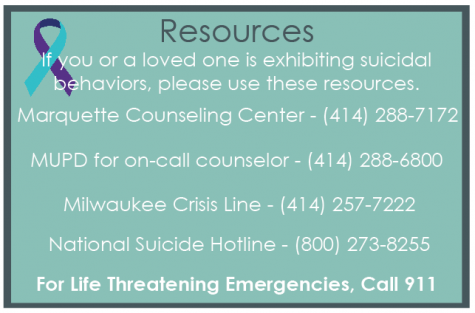 Graphics by Anabelle McDonald